Men's track & field competes in Ithaca Invitational
---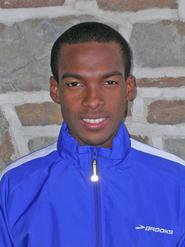 TiDelco Ductan '09 and James Russell '09 each set school records as the Hamilton College men's track & field team opened the outdoor season with the non-team scoring Ithaca College Invitational at Butterfield Stadium on March 28.
Ductan broke an 18-year-old record in the triple jump and finished first in the event with a mark of 14.02 meters. The old school record was 13.94 meters, which was set in 1991. Ductan also finished in 10th place in the long jump with a distance of 5.70 meters.
Russell broke his own school record in the pole vault with a height of 4.60 meters to finish in a tie for first place. His old record was 4.55 meters, which he set in 2007. Teammate Kevin Graepel '11 finished third in the event at 3.85 meters.
The Continentals recorded two more event victories. Peter Kosgei '10 blew away the field in the 5,000-meter run. He crossed the finish line more than a minute ahead of the runner-up in 14:35.19. Kosgei's time met a provisional standard for the NCAA Division III championships. Greg Fullman '09 finished first in the 400-meter hurdles with a time of 56.68 seconds.
Hamilton athletes proved to be successful in the middle distances, highlighted by three Continentals in the top 10 of the 800-meter run. James Grebey '12 crossed the finish line in fourth place at 2:01.86. Peter Woodruff '09 was close behind in sixth place at 2:03.00 and Cam Gaylord '09 finished ninth with a time of 2:07.18.
In the 1,500 meter run, Garrett Armbruster '10 took ninth place with a time of 4:19.92 and Scott Bickard '11 was next in 4:22.89. Keith Gross '09 and JP Traylor '10 rounded out the top finishes in the track events. Gross placed fourth in the 3,000-meter steeplechase with a time of 10:29.06. Traylor took 10th place in the 400-meter dash at 54.08 seconds.
Josh Orndorff '11 placed in the top five in two field events. He tied for third in the shot put with a heave of 12.65 meters, and his hammer throw of 33.31 meters was good for fourth. Dylan Palmer '09 took ninth place in the javelin with a distance of 40.73 meters.
Hamilton hosts the Continental Invitational on Saturday, April 4, at Pritchard Track.