Men's tennis sweeps Hobart, 9-0
---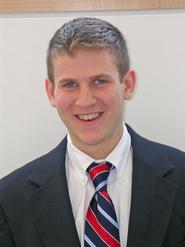 Hamilton College blanked host Hobart College, 9-0, in a non-conference match played indoors at Bristol Field House on April 8.
Hamilton (2-6 overall) hosts Amherst College for a New England Small College Athletic Conference match on Saturday, April 11. Head coach Josh McKee, who took over the men's and women's programs in February, recorded his first victory. Hobart's record dropped to 2-13.
Greg Kreitzer '11 picked up a 7-5, 6-2 win at first flight singles and Drew Libin '12 breezed to a 6-2, 6-1 triumph at second flight. Mike Moreno '11 posted another straight-set win for the visitors, 6-2, 6-4, at third flight.
Henry Ciocca '09 and Coby Berman '12 recorded 6-2, 6-2 victories at fifth and sixth flight, respectively. Pete Erwin '11 won his third set super-tiebreaker at fourth flight, 6-4, 4-6, (10-8).
Kreitzer and Libin teamed up for a 9-8 win at first flight doubles. Moreno and Erwin won 8-3 at second flight, and Ciocca and Berman won by the same score at third flight.