Men's swimming & diving falls at Amherst
---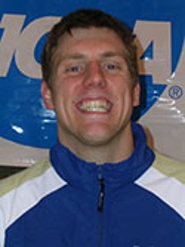 Taylor Hogenkamp '13 finished second in two events and was third in another as Hamilton College lost to Amherst College in a dual meet at Amherst's Pratt Pool on Jan. 19.

The Lord Jeffs topped the Continentals, 193-96. Hamilton hosts Union College for Senior Day on Saturday, Jan. 26.

Hogenkamp was runner-up in the 50-yard freestyle with a time of 22.40 seconds, and in the 100 free in 48.67 seconds. He also took third place in the 200 free in 1:46.72. Hogenkamp anchored the 200 medley relay to a season-best time of 1:40.15. Reid Swartz '15, Ian Nichols '13 and Alex Jones '16 were the other members of the relay.

The 200 free relay of Nichols, John McBratney '16, Fumi Asaga '14 and Andrew McWhirter '15 also set a season-best time of 1:32.07. McBratney placed second in the 500 free with a time of 4:50.74, which was a mere .01 seconds behind the winner.