Men's squash places eighth at NESCAC championship
---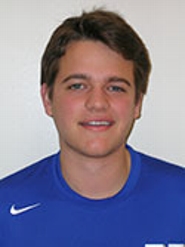 Hamilton College placed eighth at the 2013 NESCAC Championship, which was held at Trinity College's George A. Kellner Squash Center from Feb. 1 to Feb. 3.

Hamilton (7-11 overall) was the eighth seed in the 11-team event. The Continentals edged ninth-seeded Colby College 5-4 in the first round on Friday night. Hamilton moved on to the quarterfinals against top-seeded Trinity and lost 9-0 on Saturday afternoon.

The loss to the Bantams placed Hamilton in the consolation bracket, and the Continentals suffered a 9-0 setback against fifth-seeded Bowdoin College on Saturday evening. The Continentals wrapped up the weekend with a 7-2 loss to sixth-seeded Wesleyan University in the seventh place match on Sunday morning.

Seven Continentals tallied one win each during the weekend. Against Colby, Teddy Black '15, Harry Keeshan '13, Peter Harrison '15, Ted Nehrbas '15 and Mac Pivirotto '15 claimed victories. Black played at the third position and earned Hamilton's lone 3-0 victory. Harrison (sixth position), Nehrbas (eighth) and Pivirotto (ninth) all won their respective matches in four games. Keeshan fell behind 0-2 at the fifth position before he captured the last three games by scores of 11-7, 11-6 and 11-8, and clinched the match for the Continentals.

Josh Wolpert '16 and Walker Lourie '15 posted wins against Wesleyan. Wolpert triumphed in four games at the fourth position, while Lourie rallied from a 2-1 deficit and defeated his opponent in five games at the seventh position.

Hamilton participates in the Division III invitational tournament at Bowdoin Friday through Sunday, Feb. 8 to Feb. 10.