Men's soccer edges Skidmore in double overtime
---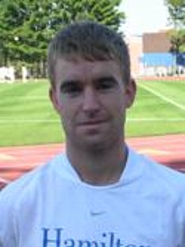 Jon Sanford '11 scored the game-winning goal for Hamilton College in the second overtime period to defeat host Skidmore College, 2-1, in a Liberty League game at Wachenheim Field on Oct. 25.
Hamilton (9-3-1 overall, 5-1-0 Liberty) won its seventh straight game for the first time since 2003. The Continentals remained in first place in the league standings with one league game left to play. Hamilton is 6-0-1 on the road this year. The Thoroughbreds fell to 6-8 overall and 2-4 in the league.
Sanford took a corner kick sent in by Bennett Weinerman '11 and beat the Skidmore keeper with a header 1 minute, 12 seconds into the second overtime period. The corner kick was the only one of the entire game for Hamilton. Sanford leads the Continentals with seven goals and 14 points this season.
The Thoroughbreds got on the scoreboard first in the 27th minute when they sent a shot into the right front corner of the net. Hamilton had not allowed a goal in the first half in the first 12 games this year.
The Continentals fought back and tied the score in the 62nd minute, when Hennie Bosman '13 scored his third goal of the season. Bosman sent the ball past the Skidmore keeper at the near post off a pass from Andrew Scott '12.
Eric Boole '13 finished with five saves in the win. The Thoroughbreds held a 17-11 advantage in shots, and also led in corner kicks, 4-1.
The Continentals return to action on Saturday, Oct. 31, when they travel to Hobart College for a league game and the regular season finale at 11:30 a.m.