Men's lacrosse slips past Skidmore
---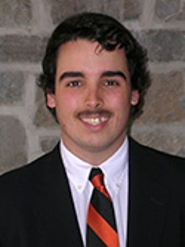 Hamilton College's Connor Morgan '15 scored a career-high five goals and added an assist, and the Continentals edged Skidmore College 13-11 in a non-conference game at Hamilton's Steuben Field on April 10.

The Continentals (5-5 overall) have won the last three meetings with Skidmore and lead the all-time series, 23-9. Hamilton has won 23 consecutive regular season non-conference games.

John Zimmerman '15 tallied five points on two goals and three assists, and Matt Hrvatin '15 had three helpers. Bryan Hopper '14, Luke Walsh '13, Pax Anthos '14, Joe Ricciuti '16, Matt Hill '13 and Nick Ogden '15 chipped in one goal each. Paul Armideo '14 and Nate Menninger '16 added one assist apiece.

Menninger won 15 of 21 faceoffs and grabbed a season-high 11 ground balls. Dylan Lahey '15 caused three turnovers and Will Driscoll '15 made 10 saves.

Jon Hoeg '13 paced the Thoroughbreds with three goals and one assist. Mike Perlow '13 also finished with four points on two goals and two assists. Kevin Mulvey '16 and Josh Berger '15 scored two goals apiece.

Taylor Best '14 won five faceoffs and Sam Christiansen '15 recorded nine ground balls and three caused turnovers. Matt Diaco '14 turned away 18 shots.

Hamilton raced out to a 3-0 lead in the first quarter. Morgan intercepted a clear attempt by Diaco right outside the crease and scored with 12:14 left in the first. Only 65 seconds later, Armideo passed to Hopper from behind the net and Hopper scored from 10 yards out. The Continentals went up by three after Driscoll made a save and passed to Ogden, who took it the length of the field and scored his second goal this season with 10:39 remaining.

The Thoroughbreds (4-7) answered with three straight goals and tied the score at 3-3. Berger's first goal came from Hoeg with 9:23 left in the first, and his second came with 6:04 to go after he received a pass from Connolly. Mulvey evened things up with 4:33 remaining in the first. Moments later, lightning suspended play for more than 30 minutes.

After play resumed, Hamilton scored the period's final goal on Morgan's man-up tally from Zimmerman for a 4-3 lead after one quarter. The Continentals were in the middle of a 3-minute unreleasable extra-man opportunity after a Skidmore player was sent off for an illegal check to the head.

Skidmore took their first lead with a three-goal run at the start of the second quarter. Perlow assisted Hoeg during a man-up situation and tied the score 2:29 into the second. Connolly put the Thoroughbreds up 5-4 on an unassisted goal 1:31 later, and Hoeg found the back of the next again with 9:43 left.

The Continentals bounced back with five of the next six goals and never trailed again. Ricciuti tallied his second goal this year and pulled Hamilton within one with 5:22 left in the second. Menninger won the ensuing faceoff and found Hill for his first goal this season. Morgan's third goal of the day on an assist from Hrvatin gave the hosts a 7-6 lead with 2:43 left in the half.

Hoeg tied it up again at 7-7 on his third goal with 1:30 to play in the half. But a pair of Hamilton goals in the final 26 seconds gave the Continentals a 9-7 advantage at the break. Zimmerman scored after he received a pass from Hrvatin, and then assisted on a goal by Morgan with 17 seconds left.

The same combinations hooked up again and gave Hamilton its largest lead at 11-7 midway through the third quarter. Zimmerman scored from Hrvatin with 8:18 left and set up Morgan for his eighth goal this year with 5:09 remaining.

The Thoroughbreds closed the gap to 11-8 by the end of the third on a man-up goal by Perlow, and climbed within a goal midway through the fourth quarter. Perlow scored 1:52 into the fourth and Mulvey made it 11-10 on his 15th goal with 7:50 to play. Menninger won the next faceoff and Anthos gave the Continentals a 12-10 lead 43 seconds later after he received a pass from Morgan.

Ohara cut it to 12-11 on his 13th goal with 5:47 left, but Walsh slipped a shot by Diaco just 65 seconds later for the final margin. Hamilton's defense forced two turnovers and Driscoll made two saves in the final minutes as the Continentals held on for the win.

The Continentals outshot Skidmore, 46-33, and were credited with 45 ground balls to 30 for the Thoroughbreds. Hamilton won 19 of 28 faceoffs.

Hamilton hosts nationally ranked No. 14 Connecticut College for a NESCAC game on Saturday, April 13. Skidmore heads to Clarkson University for a Liberty League contest on Sunday, April 14.