Men's indoor track & field places 6th at St. Lawrence Invite
---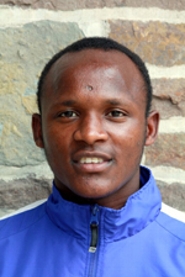 Hamilton College's Leonard Kilekwang '16 finished first in the triple jump and the Continentals placed sixth out of eight teams at the St. Lawrence University Indoor Invitational held at Newell Field House on Jan. 19.

Results

Kilekwang posted a mark of 13.07 meters in the triple jump, and placed sixth in the 500-meter dash with a time of 70.94 seconds. Classmate Andrew Mandelbaum '16 edged him for fifth place in 70.74 seconds. In the 60-meter dash, Mbuotidem Isaac '15 finished fourth in 7.16 seconds, while Nathaniel Menninger '16 was eighth in 7.27 seconds. Menninger's time in the preliminary heats was 7.24 seconds.

Joe Jensen '15 raced to third place out of 36 runners in the 200-meter dash with a time of 23.51 seconds. David Freeman '16 captured seventh place in the 3,000-meter run at 9:30.13. Jake London '14 finished fourth in the high jump with a height of 1.83 meters, and Will Tifft '14 was fourth in the weight throw with a distance of 13.03 meters.

St. Lawrence won the team title with 209.5 points and the University of Ottawa was second with 106. Hamilton finished with 45 points.

The Continentals host the Hamilton Invitational on Saturday, Jan. 26.