Men's ice hockey tripped up by Tufts
---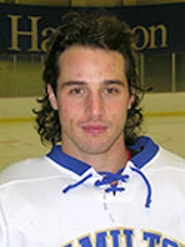 Tufts University's Andrew White '15 posted his first career hat trick and the Jumbos defeated Hamilton College 6-4 in a NESCAC game played at Connecticut College's Dayton Arena on Feb. 10.

The Continentals (5-13-3 overall, 3-10-2 NESCAC) had won six of the previous seven meetings with the Jumbos, including a 3-1 victory on Jan. 12 in Clinton. Tufts dealt Hamilton its fifth straight loss.

Tyler Voigt '15 tallied one goal and one assist, and Kyle Gallegos '14 and Tim Mitropoulos '14 each added one score for the Jumbos. David Carson '14 and Shawn Power '15 recorded two assists apiece, and Brian Phillips '14 made a career-high 43 saves.

Kenny Matheson '16 led the Continentals with one goal and one assist in his return to the ice after missing 16 games due to injury. Pat Curtis '15, Dom Jancaterino '14 and Matt Tetro '16 scored one goal each.

Marko Brelih '16 passed out two assists, and now leads the team with 10 on the season. Anthony Ruberto '13 and Bennett Schneider '14 were credited with one assist each. Ruberto's assist marked the 50th point of his career. Joe Quattrocchi '14 made 28 stops in 59-plus minutes in goal.

Tufts (7-12-2, 2-11-2) jumped out to a 3-0 lead in the first period. White scored his first goal at the 9:01 mark on assists from Voigt and Carson. Voigt added a goal with 7:14 remaining in the first, and Brian Ouellette '16 and Blake Edwards '15 earned the assists. Mitropoulos tallied his goal with 4:14 to go, just three seconds after the Continentals killed a penalty.

Neither team scored in the second period as Phillips made 17 saves and Quattrocchi stopped 11. Hamilton cut into its deficit with two goals early in the third while the teams skated 4-on-4. Jancaterino struck first with his team-high eighth goal from Ruberto 53 seconds into the period. Ruberto leads the team with 14 points. Matheson scored his first collegiate goal on an assist from Schneider just 10 seconds later.

The Continentals came all the way back and tied the score at 3-3 on Tetro's second goal this season at 8:19 of the third. Sen and Gardiner had the assists. But Gallegos responded with his 10th goal just 28 seconds later that gave Tufts the lead for good. Dylan Plimmer '13 and Carson recorded the assists, and Plimmer tallied his team-leading 21st point.

White scored his second goal of the night on a power play with 5:22 left. Dom Granato '16 and Power picked up the assists. Hamilton cut into the Tufts lead again with 3:07 to play while the Continentals had a 5-on-3 power play. Curtis' fourth goal on assists from Brelih and Matheson made it 5-4.

The Continentals pulled Quattrocchi in favor of the extra skater with 46 seconds left. But the Jumbos gained possession of the puck and White scored on an empty net with 4 seconds left to complete his hat trick.

Hamilton outshot the Jumbos 47-34, including 22-7 in the third period. Each team scored one power-play goal, as Tufts had six chances and the Continentals received eight.

The Continentals stay at Conn. College for another NESCAC game against the Camels on Monday, Feb. 11.