Men's ice hockey falls at Colby
---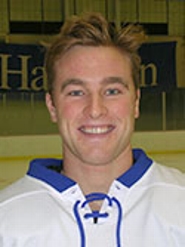 Colby College received goals from five different players and the Mules skated to a 5-1 NESCAC victory over Hamilton College at Colby's Alford Rink on Feb. 1.

The Mules (4-13-2 overall, 2-10-1 NESCAC) halted an eight-game winless streak. Colby had gone 0-6-2, including a 6-3 loss to the Continentals, since Jan. 4.

Robert McCormick, Cory McGrath, Jack Bartlett and Ben Chwick each tallied one goal and one assist, and Ray Zeek scored the other goal for the Mules. Nick Lanza and Matt Gelnaw recorded two helpers apiece, and Nick Kondiles and Nate Morgan were each credited with one assist. Sam Parker turned away 21 shots.

Dom Jancaterino '14 scored his team-leading seventh goal this season for Hamilton. Tyler Lovejoy '16 and Pat Curtis '15 had the assists, and Curtis is tied for the team lead with eight. Joe Quattrocchi '14 made 29 saves while playing 59 minutes, 21 seconds, in goal.

After a scoreless first period, McCormick netted the first goal 2:09 into the second. The Mules extended their lead to 2-0 with 6:29 left in the period when McGrath scored on the power play. Chwick and Lanza had the assists.

The Continentals (5-11-3, 3-8-2) cut their deficit in half with 3:23 remaining in the period on Jancaterino's goal. The second period ended with Colby ahead 2-1, and it stayed that way until the Mules tacked on another goal at 9:51 of the third when Chwick scored. McGrath's assist on the play was his 50th career point.

The Mules added an insurance goal with 4:58 left in the third when Zeek scored from Kondiles and Morgan. Bartlett added an empty-netter with 23 seconds remaining. Colby outshot Hamilton 34-22, and went 1-for-2 on the power play. The Mules killed all four of the Continentals' opportunities.

Hamilton heads to nationally ranked No. 2 Bowdoin College for another NESCAC game on Saturday, Feb. 2.