Men's golfer earns third all-region honor
---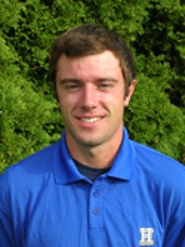 Hamilton College's Greg Scott '14 (New Haven, Vt./Mount Abraham Union HS) was selected to the 2013 Division III PING Northeast Region All-Region Team by the Golf Coaches Association of America on May 14.

2013 Division III PING All-Region Team

Scott was one of 12 players selected in the Northeast Region. It is the third straight year Scott has garnered all-region honors, and he is the only player in the region that has been on the all-region team each of the past three years. He was placed on the Division III All-America third team in 2011.

Scott has earned three NESCAC all-conference honors, including the first team in 2011 and the second team in 2010 and 2012. At the 2013 NESCAC Championship on April 27 and 28, Scott was runner-up with a 2-over-par 144. He carded a season-best round of 71 on the second day and finished one stroke behind the individual medalist.

Scott's 18-hole stroke average of 76.2 for 17 rounds was best on the team. In 14 out of 18 rounds, he shot better than 80, and his worst score was an 83. Scott placed in the top 11 in nine 2012-13 events, including four finishes in the top three and two tournament wins.