Men's squash picks up one win on opening weekend
---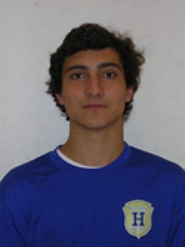 Hamilton College completed its opening weekend with a split at Cornell University's Belkin International Squash Courts on Nov. 17.

The Continentals, who are 1-3 overall and 20th in the College Squash Association's preseason rankings, earned a 6-3 victory over No. 24 Stanford University on Saturday. Hamilton fell 9-0 against No. 4 Cornell in its final match of the weekend.

The Continentals dropped a pair of matches at the Little Squash Center on Friday night. No. 12 Williams College defeated Hamilton 8-1, and No. 13 Navy won 9-0 in the nightcap.

Peter Harrison '15 recorded two victories at the sixth position, including Hamilton's only point against the Ephs on Friday. Harry Keeshan '13 won a match at the fifth position. Keeshan also extended his Navy opponent to four games and his Williams opponent to five games before he ultimately lost both matches.

In the match against Stanford, Harrison defeated his opponent in three straight. Walker Lourie '15 (seventh position) and Austin Engros '15 (eighth position) earned wins in four games, and Keeshan, Teddy Black '15 (third position) and Ted Nehrbas '15 (ninth position) went all the way to five games before they knocked off their opponents.

The Continentals are off for Thanksgiving before they hit the road for a matchup at Hobart College on Sunday, Dec. 2.