Men's ice hockey clips Conn. College with big third period
---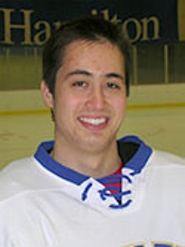 Hamilton College erupted for five goals in the third period and rallied for a 7-3 NESCAC win against Connecticut College at Conn. College's Dayton Arena on Feb. 11.

The Continentals (6-13-3 overall, 4-10-2 NESCAC) snapped a five-game skid and boasted their highest offensive output since a 10-7 win at the University of New England on Jan. 29, 2011. Hamilton is 4-1-1 against the Camels in their last six meetings and lead the series, 16-7-2. The teams skated to a 2-2 tie in Clinton, N.Y., on Jan. 11.

Marko Brelih '16 posted one goal and three assists for the Continentals. Brelih tops all defensemen and rookies with 15 points in conference games.

Drew Jelinek '13 recorded two goals and one assist for Hamilton. Anthony Ruberto '13 tallied one goal and two assists, and Pat Curtis '15 added one goal and one assist. Curtis has recorded at least one point in four straight games and has two goals and three assists during that stretch. Brian Ferrell '16 and Scott Vazquez '16 scored one goal apiece. Nick Vassos '15 and Kenny Matheson '16 were credited with two assists each. Joe Quattrocchi '14 stopped 28 shots for his sixth win.

Keith Veronesi, Sean Murray and Sebastian Meltzer scored the goals for the Camels. Mike Sinsigalli, Kevin Kelly, Mike Martinez, JC Cangelosi and Adam Patel picked up one assist each. Both Veronesi (1 goal, 6 assists) and Cangelosi (2 goals, 5 assists) have notched a point in four consecutive games. Mike Petchonka made 34 saves in 59-plus minutes.

The Camels (7-12-13, 3-10-3) took their only timeout with 7:55 left in the first period, and Meltzer scored just 19 seconds later for a 1-0 lead. Sinsigalli fired a shot that Quattrocchi denied, Patel corralled the rebound and sent a pass to Meltzer for the backhander.

Hamilton answered 79 seconds later on Ruberto's team-best eighth goal this season as Jelinek picked up the assist. Ruberto skated free for a 1-on-1 situation and scored on a low shot to the far post. The score was tied 1-1 at the first intermission.

Conn. College took a 2-1 lead 10:10 into the second period when Murray went top shelf on a wrist shot from the left faceoff circle. Kelly and Martinez had the assists.

Once again the Continentals wasted no time as Brelih's fifth goal on a shot from the left point made it 2-2 a mere 28 seconds later. Curtis and Matheson were credited with the helpers. The Camels went back on top with 3:03 to go in the second. Veronesi scored his eighth goal on a backhander and Cangelosi recorded his team-high 15th assist. Conn. College led 3-2 after two.

The third period was all Continentals. Curtis tied the score with his fifth goal from the right point on a power play 2:05 into the period. Jelinek scored the game-winner at 3:31 when he stole the puck in the neutral zone, skated in alone and scored from point-blank range. He added his fourth this season at 4:41 for a 5-3 advantage. Ferrell followed 55 seconds later with his first collegiate goal, and Vazquez tacked on his third with an empty-netter with 1:52 left.

Hamilton outshot the Camels 41-31, including 18-10 in the decisive third period. The Continentals scored on their only power-play chance, and Conn. College came up empty on its one opportunity.

The Continentals return home for another NESCAC game against Middlebury College on Friday, Feb. 15.