McDowell '12 Learning Legal Ropes
---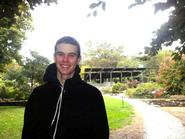 A law degree can lead can lead to countless career paths, but regardless of a student's goals, a district attorney's office offers an exciting environment in which to learn about the legal field. Ephraim McDowell '12, a sociology major with a minor in communication, is spending his summer with the Norfolk County District Attorney's Office in Canton, Mass., working with one of the assistant district attorneys.
Thanks to alumni and parent donations, Hamilton students can apply for funding to support them while they work in a field of interest with an organization that cannot pay them. McDowell received a stipend from the Summer Internship Support Fund through the Career Center. This fund was established in 2005 by John G. Rice, Class of 1978, to provide supplemental cost of living support to students pursuing summer internship opportunities.
McDowell is working with Assistant District Attorney Brian Wilson, helping Wilson prepare for several cases and attending hearings and trials. McDowell's responsibilities include reading and summarizing police reports, creating timelines for criminal incidents that have taken place, determining sentence recommendations, and writing narratives of the facts of certain cases.
The District Attorney's Office is responsible for the prosecution of criminal offenses that occur in Norfolk County. The office also works in crime prevention and provides services and information to witnesses and victims. The assistant district attorneys each handle several cases at a time; they represent the Commonwealth of Massachusetts against criminal defendants.
McDowell is interested in attending law school after college, and though he does not necessarily want to pursue a career in criminal law, he looks forward to gaining experience in the legal field over the summer. He finds his current internship with Norfolk's DA's Office to be highly interesting, as well as relevant to his goals. McDowell hopes to discover more about a typical lawyer's daily routine, and he is grateful for the opportunity to work closely with an experienced attorney as an undergraduate.
On the Hill, McDowell is captain of the varsity basketball team.
A career in law does not necessarily mean criminal prosecution or defense, but having experience in this sort of office can be very valuable to any law student. McDowell explains, "Although criminal law may not be the specific field I end up in, working at the DA's office allows me to become indoctrinated into the legal world and to gain some early experience doing legal work."
Ephraim McDowell is a graduate of Beaver Country Day School in Chestnut Hill, Mass.