Marla Marquez '14 Spends Summer as Intern at NECC
---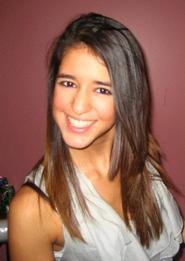 Marla Marquez '14 is spending her summer interning at the New England Center for Children (NECC), where her remarkable internship allows her to gain valuable career-related experience while at the same time giving back to the community. The NECC is a private, nonprofit autism research and education center in Southborough, Mass. The Center uses behavioral analysis and technology to educate autistic children and better inform their parents and teachers on methods to overcome the disorder.
As a neuroscience major who hopes to one day become a neurologist and autism researcher, Marquez is ideally suited to an internship with the NECC. She receives a stipend to support her work at the unpaid internship thanks to the generosity of the Joseph F. Anderson '44 Fund, which is managed by Hamilton's Maurice Horowitch Career Center.
Marquez became interested in pursuing a NECC internship after visiting the organization during the fall semester of her freshman year and becoming "fascinated by the institution and its methods for educating children with autism." She was excited to learn that her duties as an intern would be very similar to the duties of the NECC's actual teachers. According to Marquez, "interns are treated as incoming workers throughout training and while working with students within the classroom," thus creating an inclusive and helpful atmosphere.
Marquez's interactions with the NECC's students have been no less rewarding. She says that "the most inspiring people at the NECC are the students, in that they start every morning with a smile and eagerness to learn despite the difficulties that they may encounter."
Throughout the school day, Marquez works one-on-one with children and rotates among them on an hourly basis so that she can provide help to a variety of students across the autism spectrum. She assists students with their hygiene routines, teaches academic lessons, swims with students during pool therapy exercises and oversees student's table manners during lunchtime. At the end of the day she writes reports to parents describing each student's daily progress in order to keep a steady stream of communication flowing between parent and teacher.
Marquez appreciates that her internship has allowed her to gain "hands-on experience dealing with children that have a mental disorder and [expand her] understanding of the methods with which [the children's] brains work." Her work at the NECC is also unique among premedical students, and she hopes that her internship will give her an advantage in her post-Hamilton academic pursuits. Marquez also values the experience because it has allowed her to bring hope to families with autistic children and to help her students achieve their full potential for success.
Internships are valuable for more than just their career-related experience, and Marquez believes that Hamilton students should pursue internships for life experience and fulfillment as well. According to Marquez, interning for a nonprofit institution allows students to mature as individuals and to gain a new outlook on life.

Marquez is a graduate of Coral Gables Senior High (Fla.)