Magaziner '12 Spends Summer at Top Literary Agency
---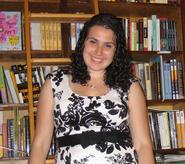 Literary agents can help authors get an editor's attention, perfect a manuscript, or seal a deal on a book. Lauren Magaziner '12 is spending the summer as an intern for The Writers House in New York City, gaining a hands-on, career-related experience at this famous and large literary agency. Her internship is supported by the Anderson Fund through the Career Center.
Literary agencies work as intermediates between authors and publishers. Currently, publishing houses only read submissions that have already gone through literary agencies, which work with authors to bring out the best of every manuscript before sending it for publishing consideration. If a publisher makes an offer on a book, literary agents also act to negotiate on the deal to benefit the author.
Writers House Literary Agency was founded in 1973 and is one of the oldest and most well-know literary agencies in the publishing world. Nora Roberts, Neil Gaiman, and Ken Follett are among the famous authors that the agency represents. Writers House also represents series such as The Twilight Saga, Eragon Series, Junie B. Jones, The Babysitters Club, Dork Diaries, and Sweet Valley High.
As an intern for Writers House, Magaziner works directly with manuscripts and writes correspondence to publishing houses. Magaziner's main task is to read and edit manuscripts and write reader's reports. The reports, which go to her supervisors, detail whether or not the agency should take the author on as a client. She also writes pitch letters, which are sent out to editors along with submitted manuscripts. The goal of a pitch letter is to engage the editor, hopefully granting the manuscript a little extra attention. Magaziner's letters reflect the tone of the manuscripts, and so she says that writing these letters is a creative effort. She has also had the chance to attend special events. For example, she has helped with the book launch for a children's book called Charlie Joe Jackson's Guide to Not Reading.
Writers House interns also have the opportunity to attend a tutorial series, in which a top agent from Writers House stages a learning session for all the interns. Magaziner says that these sessions are very informative and have given her a chance to meet and interact with other interns.
Magaziner, a creative writing major with a philosophy minor, is particularly interested in children's and young adult books. She explains, "Children's books are often so whimsical and enchanting, and I am drawn to younger voices, no matter what the genre." During the summer of 2009, Magaziner worked for Debbie Dadey, a children's book author who is represented by Writers House, and the following summer she was an editorial intern at HarperCollins Children's Books. Now, at a literary agency, Magaziner is rounding out her career-related experiences in the publishing world. The process of getting a book published can be highly intricate, and Magaziner is enjoying the opportunity to observe the system from many different angles.
On campus, Magaziner is a Writing Center Tutor and an RA, she writes for the Spectator and the Alumni Review, and participates in Hogwarts at Hamilton, Writer's Block and Hillel.
Magaziner looks forward to the experiences she is gaining at Writer's House. She finds the intermediate role of a literary agent to be highly interesting, and she enjoys observing the relationships between authors, agencies and editors. Her work with Writer's House Literary Agency allows her to work with motivated, talented agents and further her understanding of the field in which she wants to make a career.
Lauren Magaziner is a graduate of New Hope-Solebury High School (Pa.)