Loizeaux '12 Practices Public Relations in Internship
---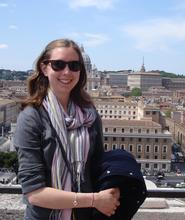 For students interested in public relations, the opportunity to work with a large public relations firm translates into valuable career-related experience. Anne Loizeaux '12 spent the summer in New York City as an intern with Planned Television Arts (PTA). She worked directly with authors as well as prominent media outlets to set up interviews for PTA clients. Her internship was supported by the Joseph Anderson Fund through the Career Center.
Planned Television Arts, a division of Rudder Finn, is an international public relations firm. They represent primarily authors, promoting writers and their work through various media outlets, including radio, print television and social media.
As an intern for PTA, Loizeaux, a government and French double major, was responsible for booking radio interviews for clients, a task for which she relied on her communication and organization skills. She contacted local and national media outlets and kept in touch with authors and members of their publicity teams. Loizeaux also remained familiar with the books she publicized, as she needed to relate the topic to current events to raise interest in the book. Ultimately, Loizeaux remarked that she was "truly a member of the team," and her work was directly part of the publicity process.
Loizeaux appreciated this internship for the wealth of experiences it gave her. She had spent previous summers working in the political field, and wanted to explore a new career option. In politics, Loizeaux was very interested in the relationship between representatives and constituents, which led her to explore the relationship between companies and individuals.

As an avid reader, Loizeaux has been intrigued by publishing, and PTA is closely involved with the publishing industry because of the many authors that the firm represents. She found hat PTA offered "a perfect combination of these interests."
In her free time, Loizeaux enjoyed her time in New York City. She said that because she had most Fridays off, she had plenty of opportunities to explore the city's museums and parks.
Anne Loizeaux is a graduate of Breck School in Golden Valley, Minn.