Levitt Lecture to Focus on the Impact of Malaria
---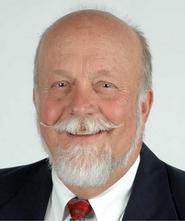 Dr. Paul Linser, professor of anatomy and cell biology at the University of Florida, will present a lecture titled "Malaria: Its Historic Impact on Mankind and the Battle to Stop the Devastation," on Thursday, Feb. 27, at 4:15 p.m., in the Taylor Science Center's Kennedy Auditorium. The lecture is free and open to the public and is part of the Levitt Center Speaker Series.
Mosquitoes carry malaria, West Nile virus, Dengue fever and a variety of other serious diseases. Forty-one percent of the world's population lives in areas where malaria is transmitted and 350-500 million cases of malaria occur worldwide each. In Africa alone, each year, malaria is responsible for over 2,700 deaths per day, or 2 deaths per minute, according to the World Health Organization.
Part of the strategy to eliminate or reduce the incidence of these diseases is to develop environmentally safe treatments that will target mosquitoes selectively, without harming humans, livestock and other insects, particularly agriculturally important species such as bees. For this purpose, one very attractive feature of mosquitoes is that their larvae rely on alkaline digestive fluids to break down food in their digestive systems. However, almost all other animals use acidic digestive fluids.
Linser and colleagues are trying to understand how the mosquito larva is able to make its digestive system so alkaline, and to use this information to identify mosquito-specific molecules that could be used in new generations of mosquitocides to selectively kill mosquito larvae but leave other insects, fish and humans unaffected.
Paul Linser graduated with a B.S. in biology from the University of Cincinnati. His graduate work was also done at the University of Cincinnati, where he earned his Ph.D. in developmental biology.