Levitt Center Summer Research Grants Announced
---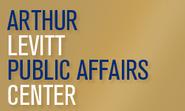 The Levitt Center has announced the 2012 Levitt Summer Research Fellowship recipients and Levitt Summer Research Group Grant Recipients. Twenty-one students will conduct research with 13 faculty members.
Research Fellows
Julian Aronowitz '14 with Professor Betsy Jensen
"A Network Analysis of the Inter-connectivity of Financial Firms"
Beril Esen '13 with Professor Nesecan Balkan
"Domestic Violence against Women in Istanbul, Turkey"
Martin Lavallee '14 with Professor Steve Orvis
"Agrarian Land Reform in Honduras"
Melissa Mann '13 with Professor Peter Cannavo
"Brownfields in Brooklyn: How Environmental Injustice is Affecting Latino Communities"
Jimmy Nguyen '14 with Professor Doran Larson
"A Comparative Study of Human and Constitutional Rights in Developed and Developing Countries"
Ashley Perritt '14 with Professor Vivyan Adair
"Emergency Room Profiling in High and Low Income Neighborhoods"
Pauline Wafula '13 with Professor Steve Wu
"Female Education and HIV/AIDS Prevalence in Kenya"
Joshua Yates '14 with Professor Shoshana Keller
"Israel's Hidden Crisis: The Rise of Fundamental Judaism in Israeli Politics and Society"
Nicholas Yepes '15 with Professor Emily Conover
"A Needs Assessment of Guarani Migrant Entrepreneurs in Asuncion, Paraguay"
Research Groups
Levitt Center-funded research groups, a new initiative of the Levitt Center, are composed of one faculty member and two to three students who work together over the summer on a joint research project focsuing on some aspect of public affairs or public service.
Professor Andrew Holland with Emily Delbridge '13 and Katherine Delesalle '14
"Bricks: An Intersection of Community and Architecture"
Professor Carole Bellini-Sharp with Erika Marte '15 and Victoria Harbour '14
"Bricks: Intersection of Architecture and Community"
Professor Phil Klinkner with Benjamin Anderson '14 and Peter Adelfio '13
"A Field Experiment Approach to Analyzing Voter Behavior"
Professor Chaise LaDousa with Paige Cross '13, Robert Trevor Howe '14 and Kara Vetrano '13
"Organizing to Teach Literacy, Reading Cultural Significance"
Professor Chaise LaDousa with Anna Zahm '13, Grace Parker Zielinski '14, and Melissa Segura '14
"Learning Cultural Lessons while Seeking English in the United States"