Larson Invited Speaker, Panelist at Conferences
---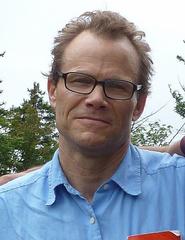 Professor of English and Creative Writing Doran Larson was an invited speaker and panelist at several recent conferences.

He participated in "Textual Ethics: Visualizing the Interface of Witness, Archivist, and the Digital Reader," at the INKE Digital Humanities Conference in, Havana, Cuba, in December. In November Larson was organizer and chair of Aesthetics in the Belly of the Beast: Reading American Carceral Art, at the American Studies Association Conference in San Juan, Puerto Rico.

Larson also participated in "Ethnic American Civil Death: Constructing the Alien in Asian & Pacific Islander Prison Writing," Law & Society Conference in Honolulu, last June.