Lanzotti Sheds Light on Future Career Goals
---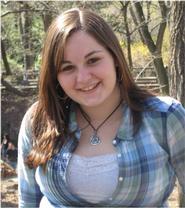 Although she's only a rising junior, Lauren Lanzotti '14 already has a clear idea of where her academic path will take her. After studying lighting design at Hamilton for the past two years, she has come up with four possible career paths that she feels will be a good fit for her background: performance lighting design, architecture lighting design, lighting distribution and electrician work, and optical engineering and development.
In 2011, Lanzotti interned at a number of off-Broadway theaters doing electrical work. While she enjoyed the work, Lanzotti said "I can't choose where I want my career to go until I try everything that my education has to offer me." Following her own advice, she decided this summer to intern at Limelight Productions, a lighting rental and distribution company based in the picturesque Berkshire Mountains of Lee, Mass. She had originally become interested in Limelight Productions after meeting employees of the company at the 2011 United States Institute of Theater Technology Conference, where she represented Hamilton College.
Lanzotti's summer internship is made possible by the generosity of the Jerome Gottlieb '64 Fund, which is administered by the Maurice Horowitch Career Center's summer internship fund.
Lanzotti is one of two interns at Limelight Productions – she specializes in theatrical lighting while her fellow intern specializes in film technology and lighting design. Originally, both worked on general tasks and helped on another whenever their backgrounds permitted; however, after the Limelight Productions supervisors became more aware of the two interns' respective specialties, they began to assign Lanzotti and her co-worker more distinct tasks.
Lanzotti now works as an apprentice of sorts to Limelight's master technician. She accompanies the technician on service calls, learns to repair damaged equipment, alters equipment for different jobs and updates lighting equipment software. While some of her work involves less glamorous tasks such as inventorying, labeling and cleaning equipment, Lanzotti remarked that she and the other intern "clearly aren't at [Limelight Productions] to get coffee and do dirty work." In fact, during only her second week, Lanzotti was asked by a technician to manage the lighting design and focus for an awards ceremony. While the technician stood by to answer questions and offer advice, Lanzotti was given complete charge of the setup.
Working at a small business like Limelight Productions has also taught Lanzotti how much effort is involved in running a company. She says that "because the business is so small… our work is so diverse, everyone is expected to know how to do everything and to help out when and where it is needed." This has led to Lanzotti working on a number of tasks outside the scope of her job description, including fashioning and restoring stage curtains, working in sales and assisting the accounting department. Even the office manager often takes time to load equipment or make lighting cables.
While she is enjoying her time at Limelight Productions, Lanzotti's experience has taught her that a career in lighting retail and distribution is not for her. Based on what she has learned from Limelight's master technician, she hopes to find work better suited to her interests in the field of optical engineering and product development. Despite her reservations, Lanzotti still finds her work at Limelight Productions to be highly rewarding. She remarked that "the Berkshire community is full of artists and performers who are focused more on their work than on money, and I hope that by working as hard and efficiently as I can, I am making their lives a little easier."
Lanzotti is a graduate of Carmel High School (Ind.)