Kate Emlen K'72 at Boston Gallery
---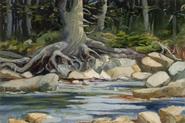 Kate Emlen's beautiful landscape paintings drew wide praise from attendees of the Architectural Digest Design Show held in New York City
this year.

Vermont Art Zine said of her work, "Her paintings come out to you, bold and forceful, full of movement . . . Emlen's landscapes evoke the sensation of being right there, on the soggy soil, feeling the cool air and smelling the
sap on the rise."

Emlen is an artist and psychoanalyst who earned a degree in literature from Kirkland in 1972. In 1977 she earned a Master of Fine Arts degree from Yale University. Since then has traveled the world; publishing, teaching, and painting.

Her daughter, Elizabeth Chamberlin, is a member of the Class of 2014.