Jon Bon Jovi Plays to Sold-Out Hamilton Audience
---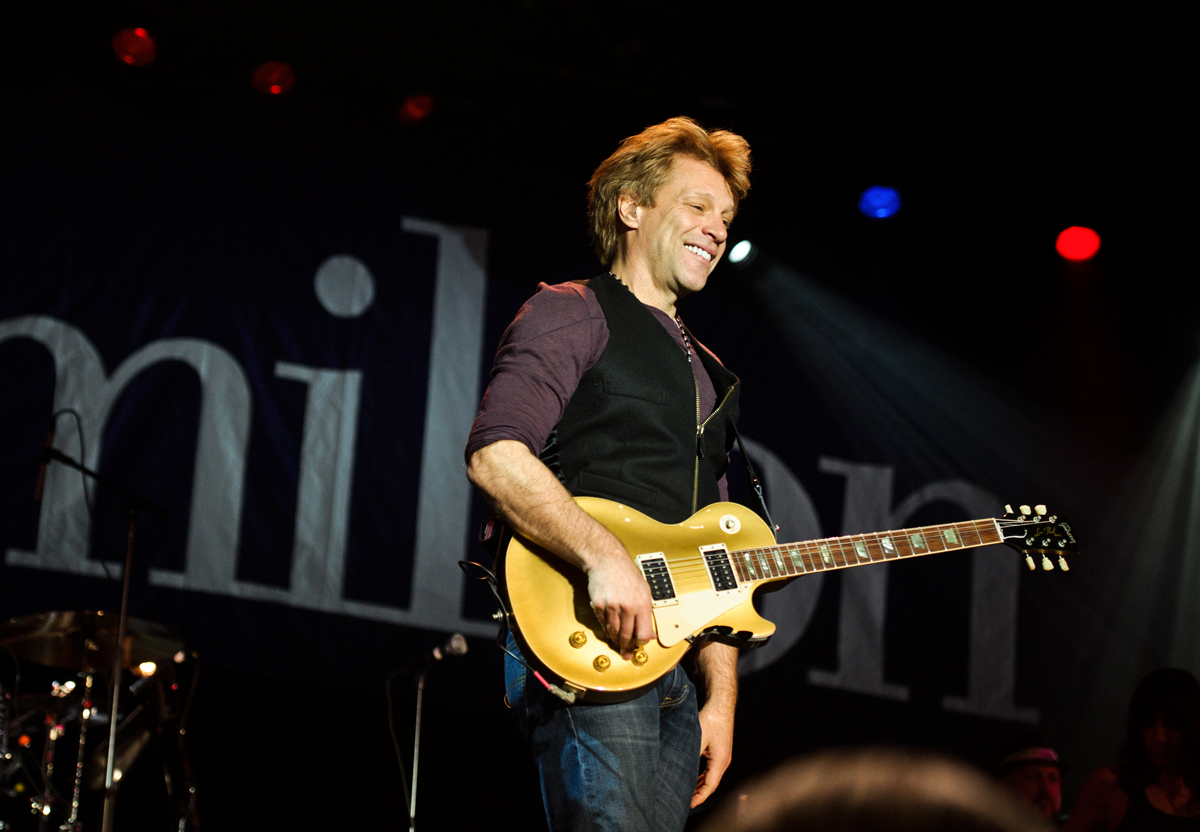 Music superstar Jon Bon Jovi delighted a sold-out audience of Hamilton alumni, parents and friends who turned out at the Best Buy Theater last night (Dec. 5) for a benefit concert that added new resources for the arts and scholarships at the college.
After a four-song opening by the DownBeat Keys, a Brooklyn-based hip-hop band featuring six Hamilton alumni, Hamilton President Joan Hinde Stewart took the stage to thank attendees and especially Jon Bon Jovi "for the amazing gift of tonight's performance in this beautiful theater." After expressing pride for the college that brought the DownBeat Keys together and helped them "to hone their talents," she said the rock superstar and his wife "are truly exceptional people, determined to help make good things happen for other people. .... They are great partners and friends to Hamilton."
Jon Bon Jovi and The Kings of Suburbia took the stage and quickly had the audience on its feet singing rock-and-roll classics including Sgt Pepper (Beatles), Pretty Woman (Roy Orbison), Blue Christmas (Elvis Presley), Old Time Rock and Roll (Bob Seger) and Under Pressure (Queen). They saved the Bon Jovi classic Livin' on a Prayer for the encore and closed out the 90-minute performance with 6345789, co-written by Eddie Floyd and Steve Cropper.
Rich Bernstein, a member of the class of 1980, said "It was great to see the Hamilton community rocking together. It seemed like a once-in-a-lifetime event, and it was very cool to be a part of it." Others posted their pictures and comments on social media. Katie Boyer, of the class of '93, said on Twitter "Jon Bon Jovi=awesome performer and philanthropist. Go arts and scholarship at Hamilton, and THANK YOU JBJ. You rock!!" Ilana Carlin, a 2009 graduate, posted "I must be dreaming …. Rocking out Hamilton style in NYC."
Stewart said the event was believed to be the largest off-campus Hamilton gathering in history, and attendees entered the theater under a marquee that announced to those in Times Square that the concert was sold-out. Sara Peach Messier '05 took note: "what a night!" she posted on Twitter. "Seeing our name on the marquee was great way 2 start the night."
The evening was extra special for the alumni who perform as the DownBeat Keys: Kadahj Bennett '12, with Anthony Mathieu '12 on vocals; Jared Schneider '11 on sax and guitar; Baldwin Tang '10 on keyboard; Andy Root '09 on bass; and Ryan Calabrese '09 on drums. Professor of Music Sam Pellman proudly told the audience in his introduction of the group that he had every member of the band in at least one of his courses. He said the group had a song, The Children, chosen for a short film by an Academy Award winner and its new single, Lonely, will be featured as a music video by an MTV producer. "I knew them when they were lowercase letters," Pellman quipped, "but they're uppercase now: DBK."
"We were incredibly nervous before the show, but as soon as we played the first couple of notes, we really settled in," said Andrew Root. "All of us agree that we've never had more fun onstage before."
The band was motivated by the venue and the opportunity to share the stage with a music superstar, rehearsing many late nights in the weeks leading up to the concert. "Opening for a rock legend was inspiring," Root said. "Meeting Jon Bon Jovi and watching him play was such a huge thrill for us. There's just so much to learn from a rock star who's been in the game so long. Not only that, but he's a super nice guy too. We had an absolute blast. On every level, it was an amazing night."
Alej Longarini-Gutierrez '80 summed up the evening best on Facebook: "The concert was great but running into classmates and friends was the real highlight. Hamilton put on a great show!"
The concert took place less than two months after Hurricane Sandy devastated parts of the New York, New Jersey and Connecticut region. A number of attendees brought blankets and coats to the theater, which will be added to the Yale Club's drive to help victims of the hurricane, especially those in the Rockaways. Jon Bon Jovi, a New Jersey native who has already played one benefit concert for victims of the hurricane, is participating in the 12-12-12 Concert for Sandy Relief next week at Madison Square Garden.