John Rice '78 to Address Wall Street Association
---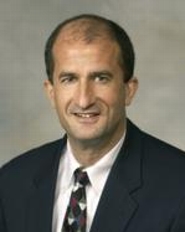 The Hamilton College Wall Street Association will hold its fall 2009 meeting at the Racquet and Tennis Club of New York on Wednesday, November 4, from 6 pm to 9 p.m. The event will feature a keynote address by Hamilton Charter Trustee John Rice '78, vice chairman of General Electric ("GE") and president & CEO of GE Technology Infrastructure.

Rice began his career at General Electric in 1978 as a member of the Financial Management Program, moving to the GE Corporate Audit Staff in 1981. In 1984 he joined GE Appliances, having various assignments in operations and consumer service.

In 1992 Rice was named president and CEO of GE's Canadian appliance affiliate in Toronto, Canada. In 1994 he assumed leadership of the GE Corporate Audit Staff and a year later was appointed president of GE Plastics Asia/Pacific business headquarters in Singapore. Rice was appointed president and CEO, GE Transportation Systems in Erie, Pennsylvania, in September 1997.

He was named president and CEO of GE Energy, a leading supplier of power generation technology, energy services and energy management systems in November 2000, a role in which he held until 2005.

The Hamilton College Wall Street Association was founded in 2006 by Brendan McCormick '01 to provide a forum in which alumni, parents and friends of the College could gather and discuss their professional and personal interest in finance and finance-related fields. The group meets twice annually to hear from notable speakers in a particular field and enjoy social and networking time. Previous guests of the series have included Thomas Tull '92, chairman and CEO of Legendary Pictures, Stephen Sadove '73, P'07, '10, chairman and CEO of Saks Incorporated, A.G. Lafley '69, chairman and CEO of Procter & Gamble Co, David Solomon, co-head of the investment banking division at Goldman Sachs and Edmund Taylor, the global head of real estate finance at Credit Suisse.