Jumpstart Helps At-Risk Students Read to Succeed
---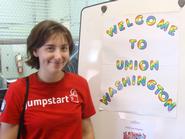 According to Jumpstart, a literacy program with locations all over the country, America is facing an "early education crisis." Low-income neighborhoods seem to face a disadvantage when it comes to education, and children from these areas fall behind in their schooling much more easily. To help provide a solution to this education gap, Jumpstart offers a program designed to help at-risk students succeed. Joanna Leff '12 is spending the summer with Jumpstart, helping to implement programs and working with children directly. Her internship is supported by the Joseph Anderson Fund through the Career Center.
Leff's internship takes place in Spanish Harlem in New York City. She implements literacy curriculum twice a week while assisting with classroom management and activities for the rest of the week. This involves working closely with children, both individually and in groups, to help them with reading, writing and other skills. Leff, a religious studies major with an education minor, looks forward to the opportunity to further each child's education, and she has a personal goal of encouraging one particular young girl to speak English. The girl understands Spanish and so far hasn't spoken in the classroom.
Jumpstart is dedicated to helping children from low-income households enter the school system prepared to succeed. The program, which was founded in 1993, has trained more than 20,000 college students and other volunteers to help more than 90,000 preschool children develop better literacy and language skills. According to Jumpstart's website, children from low-income neighborhoods are substantially less likely to succeed in school, and are likely to start school up to two years behind their peers. This gap leads to increased high school dropout rates, higher incarceration rates, and hurts the economy down the road.
Leff wishes to pursue a career in education, and she feels that her time with Jumpstart allows her to gain experience in this field while helping children in low-income neighborhoods get ahead. Outside the classroom, Leff is enjoying her time in New York City, and she describes the experience of living there as "shift in perspective" from her small hometown. She hopes to volunteer at South Seaport restoring old wooden schooners and develop an independent course on sacred space.
Education is an issue that can have lasting effects on many aspects of society. Jumpstart's efforts help close the learning gap to put an end to the early education crisis America faces. Ultimately, Leff sums up her internship with, "I feel I am really making a difference this summer and doing something absolutely worthwhile."

Joanna Leff is a graduate of Spring Street International School in Friday Harbor, Wash.