Teaching K-12 Students to See the Bigger Picture
---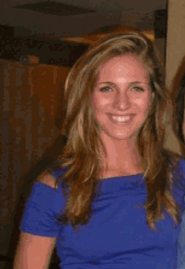 History can be learned from many different perspectives, some of which might not be immediately available in a textbook. Primary Source, a nonprofit organization dedicated to making alternative ways of learning available to K-12 students, supplements traditional techniques with additional resources for teachers. Elizabeth "Lizzy" Buhl '12 is helping to accomplish this goal with an internship at Primary Source in Watertown, Mass. Her internship is supported by the Couper Fund through the Career Center.
Founded in 1989, Primary Source is committed to creating a greater global understanding among K-12 students throughout New England. By providing a variety of resources and programs to schoolteachers, Primary Source enables educators to enhance their students' learning beyond traditional lesson plans and textbooks. Among the resources provided are a 7,000 piece library and online lesson plans, as well as graduate courses, workshops and study groups for New England area teachers. Buhl says that ultimately, "Primary Source promotes alternative ways for students to explore and understand history."
At Primary Source, Buhl is learning how to create curriculum for the classroom, and later on she will meet with teachers and professors who are experts in the field of education. She is completing research on a diverse range of historical figures and events for online curriculum. Among the topics she has recently researched are Union General Fitz John Porter, rations during WWII, and the industrialization of South Korea.
Buhl is working at two summer institutes at Primary Source, each of which provides educators with a rich introduction to a particular course topic. The first Institute Buhl is working with is War and Society: From the American Revolution to the War in Vietnam and the second is Crossroads of Culture: Interactions in Asia from 600-1500 CE. She is compiling research for these programs as well as helping with their organization to ensure that they run smoothly. Buhl is also helping inventory the Primary Source library.
Buhl, an American studies and women's studies double-major, is interested in pursuing a career in education and her experiences with Primary Source will allow her to explore alternative educational techniques while discovering more about American and global history. She explains that her American studies coursework at Hamilton has drawn from history, literature and art and she hopes to impart this sort of experience to the K-12 classroom. She looks forward to her work with Primary Source, and in particular she is anticipating a field trip to the Strawbery Banke Museum in Portsmouth, N.H., as part of the War and Society Institute.
At Hamilton, Buhl is a member of the swim team. She understands the value of an interdisciplinary, multifaceted approach to learning history. While many students may have to wait until college to experience this learning environment, Buhl is helping teachers all over New England enhance K-12 students learning to include a multicultural perspective.
Elizabeth Buhl is a graduate of Greene High School (New York).