HamiltonExplore Shows 56 Sophomores A Day in the Life...
---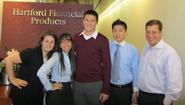 A group of Hamilton sophomores got the opportunity to spend time observing jobs that interest them, thanks to the Maurice Horowitch Career Center's inaugural career shadowing program, HamiltonExplore.
The new program, which took place over winter break, served as a concrete example of the strength of Hamilton's alumni and parent network. About 56 students partnered with a Hamilton alumnus/a or parent and spent a day shadowing their mentor at their jobs in New York City.
According to the Career Center, HamiltonExplore is designed to assist sophomore students with career exploration and decision making. By observing the nature of the mentor's work first-hand and asking questions of the alum/parent sponsor, students may acquire insight into a career field and determine the suitability of that career.
Leslie Bell, associate director, and organizer of HamiltonExplore, said her expectations for HamiltonExplore were in many ways exceeded. "The student participation rate was much higher than I expected, demonstrating a need for this type of career exploration program, and the feedback from students and sponsors was very positive. We'll definitely continue this program and will most likely expand into Boston next year as there are a large number of students from New England states who could likely participate there," Bell noted.
Students and mentors were equally positive about the inaugural year of the program. Nancy Ratner P'14, senior director, marketing partnerships and promotions for VH1, hosted two students, Athina Chamberlain and Laurie Sadove. They accompanied Ratner to several meetings during the day so they could learn about the process behind all marketing plans and execution.
"I believe this program can help students to understand that no career path follows the same pattern and that there is a world of opportunity within any area of interest," Ratner observed. She said she would definitely act as a mentor again. "I was impressed by the students and it gave me tremendous satisfaction to participate in their education and exposure to the real world," she noted.
Sandra Revueltas '05, executive underwriter at Hartford Financial products, commented that " It was a pleasure having Daniel Tempest shadow me. He even got a crash course in underwriting a large account for Directors and Officers Insurance."

Keith MacArtney '13 shadowed Bernice Napach P'13 at Bloomberg TV. "This opportunity provided me with exposure to what it really means to have a job in the media," MacArtney said. "Through the shadowing program, I learned about how much work goes into what may seem to be an everyday process."

Redwan Saleh '13 was mentored by Eric Portuguese P '11 at the law firm Lester Schwab Katz and Dwyer. "I read many of his works from memos to depositions and motions," Saleh said. "I attended a court hearing with another attorney under Mr. Portuguese and sat in a conference for discovery on a different matter. "(The experience) really motivated me to keep pursing this interest I have to learn more about other aspects of law," Saleh added.

Students interested in HamiltonExplore completed a brief application and then the Career Center worked to match each sophomore with an opportunity that fit their academic and career goals. Shadowing opportunities were available in the arts, business, communications, education, government, health care, legal, non-profit and science and technology. Prior to the shadowing experience, the Career Center provided training on communication etiquette and networking skills appropriate for this early career exploration.
Grace Lee '13 shadowed Elizabeth Debraggio '07 at the Institute for Education and Social Policy (IESP). "I observed Liz at work while asking questions related to her area of expertise, working in an academic research institution (IESP is part of NYU), and how her education at Hamilton has contributed to where she is now," Lee said.
Since two of her interests are education and research, "HamiltonExplore gave me an opportunity to get an inside look at a job that incorporates both aspects, so that I can pick out specific parts of the field that appealed or didn't appeal to me," Lee remarked.
As she concluded, "I learned two things: that an education from Hamilton can make you very versatile and the intellectual working environment that I personally found at Hamilton doesn't have to stop at graduation."