Hamilton Welcomes January Admits,Transfers
---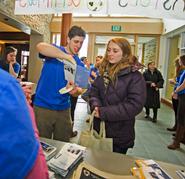 Forty-eight members of the class of '16 as well as six transfer students arrived on the Hill on Jan. 17 to register, move in and matriculate at Hamilton. The College offers January admission to about 35-45 students per year to fill vacancies created by students on leave and studying abroad.

In her welcome address to the "Jans" and their parents, Dean of Admission and Financial Aid Monica Inzer thanked the students for their perseverance and patience and, ultimately, for waiting for Hamilton. The transfers came from a wide variety of backgrounds…some who were unsuccessful in earning admission the first time they applied, some for financial reasons and some because they changed their minds about what type of school is the best fit.

Inzer explained, "In extending this option the admission office tries to identify those candidates who they'd most love to see at Hamilton, those who worked hard in high school and deserve to be here, those who will make Hamilton a better place, and those who they think will also feel the fit so strongly that they might contemplate entering Hamilton when there is snow on the ground."

After the luncheon, the new students took part in matriculation where they signed the Hamilton College register and met and chatted with President Joan Hinde Stewart, Dean of Faculty Patrick Reynolds, Dean of Students Nancy Thompson and Inzer.

Over the next four days the Jans will meet with resident hall advisors, learn about the curriculum and consult with their academic advisors and perform community service through the Hamilton Serves program. They'll also relax with Student Life Trivia, movie night and Big Prize Bingo.
WKTV (NBC) story: More first-year students starting in January

Utica Observer-Dispatch story: Finally a chance to be a Hamilton College freshman