Sato '13 Researches Police Heart Attack Risks
---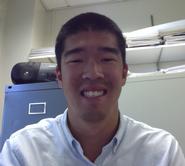 According to The Wall Street Journal's June Marketwatch.com analysis, healthcare job openings will grow faster than any other industry in 46 out of the 50 states. Shoichi Sato '13 plans to take advantage of this trend –while at the same time help others – by pursuing a career in the field of healthcare consulting. Sato, a mathematics concentrator with a particular interest in statistics and community issues, is preparing for his future career goals by interning at the Harvard School of Public Health as a research assistant for a study on heart attack risks among law enforcement officers.
His internship is made possible by the Monica Odening '06 Internship and Research Fund in Mathematics, which is administered by Hamilton's Maurice Horowitch Career Center. Sato remarked that "the funding has been enormously helpful in making my experience better … I do not have to worry about [travel and food expenses] and am able to fully concentrate on the research project at hand."
Sato is interning under Dr. Stephanos Kales, the director of the Occupational & Environmental Medicine Residency at the Harvard School of Public Health. Kales' past research has focused on documenting and understanding increased rates of on-the-job of heart attacks among firefighters. This year's research will attempt to replicate that same trend using a sample of Boston area police officers. Kales' research found heart failure to be the leading cause of on-the-job deaths among firefighters, and his research was able to identify heart attack risk factors which could be monitored and used to determine which duties a firefighter is fit to perform. Due to the similarly physically and mentally strenuous nature of law enforcement work as compared to firefighting, Kales anticipates finding similar rates of on the job heart attacks in police officers and hopes to create a wellness program to decrease this risk.
As a research assistant, Sato's first task was to create a national law enforcement department database for use in Kales' research. One of the research project's central tools is a law enforcement officer survey designed to gauge heart attack frequency and risk factors among police officers. Sato was tasked with contacting police union officials regarding this survey. To do so, he prepared cover letters to accompany surveys sent to unions and held conference calls with union officials in order to hear their feedback and recommendations regarding the survey's design. Once the survey was in its final form, he drafted letters to be sent to hospital and union officials for final approval. Sato says that "the one thing that surprised [him about his internship] was the amount of paperwork that needs to be filled out when pursuing a research project."
Sato's internship has been most beneficial in terms of the career-related experience it has provided him. He observed that his summer at the Harvard School of Public Health has given him an accurate look into the world of healthcare consulting, and that he hopes to "use the experience from this internship to pursue a career that parallels it."