Godinez '13 Interns With Portland Timbers
---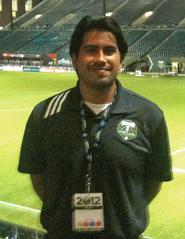 Images of alphabetizing manila folders and stuffing envelopes usually come to mind when thinking of undergraduate internships, but William Godinez '13 spends his time at work a bit differently. As an intern for the Portland Timbers Major League Soccer team, he often works one-on-one with professional soccer players, represents the team at community events, and translates information for season ticket holders.
Godinez would not have been able to live or work in Portland without the assistance of the Maurice Horowitch Career Center's summer internship funding, and he believes that "the (Jerome) Gottlieb '64 Fund gave me an opportunity that I will remember for my entire life and I am very thankful for it."
When Godinez, a sociology concentrator, set out looking for an internship for this summer, he knew that he wanted an experience in the world of sports business. He ended up choosing the Portland Timbers because of the team's incredibly loyal fan base (despite its relatively young age) and its location in Portland, Ore.
So far, Godinez's internship has been comprised of three primary duties. First, Godinez represents the Portland Timbers at community events where he informs the public about the team and sells the team's recently introduced membership packages. When Godinez is in the office, he spends much of his time working for the Timber's Spanish website, where he translates PowerPoint presentations and articles for Spanish-speaking fans and ticketholders. Godinez also has the opportunity to work one-on-one with Spanish-speaking players to help them communicate with fans and the media.
On one such occasion, Godinez accompanied a Spanish-speaking player on a visit to a juvenile detention center where most of the incarcerated juveniles were Latinos. He was surprised not only by the respect that the juvenile inmates displayed toward the player, but also by the emotion of the situation – the player literally took the shirt off of his back, signed it and gave it to the inmates. Community involvement such as this is not unusual for the Timbers, as the team often provides scholarships for tryouts, donates equipment, and provides free clinics and stadium tours for youth groups. Godinez is particularly involved with the team's contributions to the Latino youth community.
He remarked that the level of community involvement and commitment to fans displayed by the players has been one of the most surprising and rewarding aspects of his experience. He says that despite the fame and athletic abilities of the players (many of whom play for their national teams in addition to the Timbers), they are incredibly down to earth and friendly. Some of the players know Godinez on a first name basis and even casually converse with him.
Godinez believes that his internship with the Timbers has given him a better understanding of the professional sports industry and his future career goals. According to Godinez, "Sports business is a tough business and you have to constantly be aware of any changes that come up." He emphasized the importance of marketing the team's image and looking globally. Godinez recommends that other Hamilton students consider interning in the field of sports business and says that the Portland Timbers provide incredible opportunities and an exciting work environment. On campus, Godinez is an active intramural athlete, a former New York City program participant and a member of The Brothers, a racially and ethnically diverse young men's academic and civic association.
Godinez is a graduate of the York Preparatory School (N.Y.)