Gina Werfel K'73 Talk and Art Show in Chelsea
---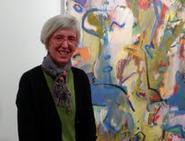 Alumni, students and friends gathered at the Prince Street Gallery in Chelsea for an art show and talk by Gina Werfel K'73, Professor of Art, University of California, Davis.

The crowd included Hamilton professors of art Ella Gant and Rebecca Murtaugh, and 14 of their students as well as alumni from UCDavis.

Gina, majored in art at Kirkland College then earned an MFA from Columbia University.