Forsander '14 Broadens Career Horizons at CITI
---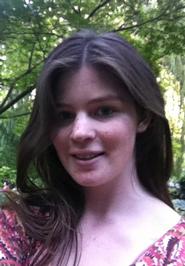 English major Madison Forsander '14 originally planned to find a career-related experience in fiction editing, but this summer she instead chose to accept a textbook editing internship at the Columbia Institute for Tele-Information (CITI) at Columbia University.
While the opening was outside of her immediate scope of interest, she applied to the competitive Ivy League school's internship program because she thought it would "be a good way to gain editorial experience and simultaneously expand [her] knowledge of media and communications." Her internship is supported by a stipend from the Joseph F. Anderson '44 Fund, which is administered by Hamilton's Maurice Horowitch Career Center.
CITI was founded in 1983 as a center for research and scholarship on management of foreign and domestic electronic media, and since that time it has published 65 books on telecom, television, cable, Internet and film. The institute is directed by Columbia Professor of Public Policy and Business Responsibility Eli Noam, who supervises Forsander and 30 other interns. Forsander initially feared that her duties would focus on basic copyediting, but she was pleasantly surprised to be assigned in-depth research topics covering all aspects of the electronic media field.
Her work is centered on expanding and updating prior research and lesson plans for use in a 13-volume graduate textbook series on media management. The series covers topics ranging from entertainment law to marketing, and Forsander's assignments have varied from investigating Walt Disney's DVD inventory valuation techniques to transforming PowerPoint presentation into textbook segments. One of her most elaborate projects involved conducting a comprehensive analysis of the Swedish media market, including television, cable, wireless communication, publishing and radio.
She concluded her study by building indexes on Swedish communication market competition and summarizing cultural differences between U.S. and Swedish media practices. She sees her internship at CITI as "mimicking the breadth of a liberal arts education – every intern is expected to field tasks in all 13 topics of the media textbook."
One of the most rewarding aspects of the intern program at CITI is that it provides lunches, lectures and conferences aimed at educating interns in all aspects of the media management industry. Speakers have included prominent entertainment lawyers, new-media startup investors and even the executive vice president and CTO of HBO Entertainment. CITI's telecommunications conferences draw prominent media figures from across the industry and across the world, including executives from Nielsen Ratings and Condé Nast. According to Forsander, "attending these conferences and learning more about telecommunications from experts is one of the best perks of this internship."
Forsander believes that the "experience [she is] gaining in editing and research will be a useful skill set applicable to many different careers," and that the work she has done on the textbooks has given her insight into the kinds of jobs available in each of those fields. While she still plans to pursue a career in fiction editing, learning about the different sectors of the media business has opened her up to the possibility of pursuing other paths, such as work in copyright law. She said "I feel that I have many options to explore [as a result of working in] this internship that I might not have considered before arriving at Columbia."
Forsander is a graduate of Santa Monica High School (Calif.)