Football falls in defensive struggle at Williams
---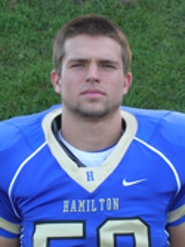 Adam Marske threw two touchdown passes to J.C. Stickney in the first quarter, and Williams College's defense made them stand up for a 14-7 win against Hamilton College in a NESCAC game at Williams' Weston Field on Oct. 29.

Marske finished 10 of 20 for 144 yards and one interception. Chris Cleary also played under center for the Ephs, and was 5 of 8 for 38 yards. Stickney caught four passes for 64 yards.

Williams (4-2 overall and NESCAC) sacked Hamilton quarterback Jordan Eck '13 six times, and limited the Continentals to minus-30 yards rushing. The Ephs forced three turnovers as Hamilton gained 187 yards of offense. Chris Cameron led Williams' defensive effort with seven tackles, including a sack, to go with a forced fumble and fumble recovery.

The Continentals (2-4) have lost their last four games, including three on the road. Eck ended up 18 of 46 for 217 yards and two interceptions. James Stanell '14 scored his third touchdown this year on a 2-yard run with 7:27 left in the fourth quarter. An extra-point by Garrett Hoy '13 pulled Hamilton within 14-7. Ryan Cray '12 led the receiving corps with six catches for 68 yards.

Mike MacDonald '13 was credited with a game-high 13 tackles -- 12 solo -- for the Continentals. MacDonald recorded two of Hamilton's three sacks, and Charley Bueneman '14 had the other. Dan Peters '13 returned an interception 53 yards. Peters leads the defense with two picks. The Continentals held the Ephs to 282 yards and 12 first downs.

Hamilton's scoring drive covered 80 yards in 10 plays. The Continentals were helped by two pass interference calls and a personal foul on Williams that resulted in three first downs. The Ephs were flagged 12 times for a total of 83 yards.

Eck gained 62 yards either on the ground or throwing the football during the drive. He found Cray for 24 yards at the Williams 19-yard line to get Hamilton into the red zone. On fourth-and-2 at the Ephs' 3, Eck threw incomplete to Hoy, but Williams was guilty of pass interference for an automatic first down. Stanell scored on the next play.

The Continentals had one last chance to tie the score with 1:21 remaining when they started at their own 23 after the Ephs turned the ball over on downs. Eck threw 18 yards to Hoy on second down as Hamilton moved to its 41. After an incomplete pass, Eck was sacked and lost the football. Williams recovered at the Continentals' 15-yard line with 50 seconds left to end the comeback hopes.

Hamilton travels to Middlebury College for another NESCAC game on Saturday, Nov. 5.