Fix '13 Gets Behind the Scenes as American History Museum Intern
---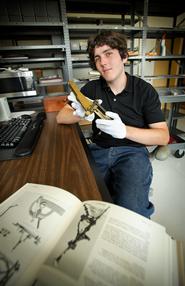 When Adam Fix '13 applied for an internship at the Smithsonian Institution's National Museum of American History, he expected to be assigned to a general archive. But to his surprise, he was assigned to work directly for the mathematics curator of the Department for Science and Medicine. Since Fix is a history and mathematics major who aspires to work in research or academia, he couldn't have been happier with this appointment.
Fix receives a stipend to support his internship from the Robert S. Morris '76 Fund through Hamilton's Maurice Horowitch Career Center – without this stipend Fix says that his unpaid internship would not have been possible to accept given the high cost of living and commuting in Washington, D.C.
Many museum-goers don't realize that the collections seen on display usually represent only a fraction of the museum's artifacts. Museums store away many pieces of their collections in archives that are often closed to the public.
One of Fix's most important jobs at the Smithsonian is to help make these closed archives more accessible to the public by adding to the museum's ever-growing online database of historical artifacts. This task involves recording an item's description, researching its historical context and writing a summary that is both valuable to historians and understandable to the public. Fix also researches uncataloged objects to try to identify their function and history in an effort to determine if the items are worth keeping for the museum.
Fix was particularly impressed when he came across the original notes and computer printouts from the team of University of Illinois scientists who used an early supercomputer to prove the "four color theorem" in 1976. The theorem states that any map, no matter how complex, can be filled in with only four colors so that no two adjacent regions share a color. While the mathematics archive is one of the less publicly glamorous wings of the Smithsonian, Fix is glad to know that his work is "helping to preserve pieces of history that would otherwise be lost and forgotten."
"I'm getting a lot of experience working in a formal research setting," said Fix, and while he has yet to conclusively decide upon a career path, he believes that simply taking part in the day-to-day activities of the American History Museum has been a valuable experience. Asked if he would recommend his internship to other Hamilton students, Fix responded, "If you're interested in museum work, archiving, or research, the Smithsonian is the best place to get experience."
Fix is a graduate of Moravian Academy High School (Pa.)