Field hockey shuts out Vassar
---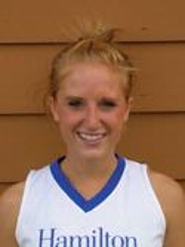 Hamilton College defeated host Vassar College 2-0 in a Liberty League game played at Weinberg Field on Oct. 24.
Hamilton improves to 8-3 overall and 5-1 in the Liberty League. The loss drops the Brewers to 2-15, 0-6.
The Continentals produced all the offense in the first half. Hamilton took the rainy and damp conditions out of the equation less than a minute into the first half when Carly Andrascik '11 scored her third goal of the season. The goal followed an initial shot by Colleen Callaghan '11, and was neatly tucked past the Vassar goalie and into the back of the cage.
The insurance goal came with just under three minutes to play in the half. Erin McNally '12 converted a penalty corner for a goal off a feed from Charlotte Lescroart '13, and it provided Hamilton with an important 2-0 cushion heading into the second half. The goal was McNally's fourth this season.
Hamilton controlled play, rarely allowing the Brewers past midfield. On the few occasions Vassar did move into the offensive zone, the Continental defense formed a wall around goalie Courtney DeMaria '10 and stopped any movement toward the goal. Vassar's best first half threat came in the 20th minute when the Brewers collected a bouncing ball through the middle. However, their progression toward the goal was stopped by Hamilton defender Amy Allen '10.
Hamilton outshot Vassar 16-4, and also held a 6-5 advantage in penalty corners. DeMaria finished with two saves for her third shutout this year and the eighth of her Hamilton career.
The Continentals travel to Rensselaer for their final regular season league game on Sunday, Oct. 25, at 1 p.m.