Exploring Art as Therapy
---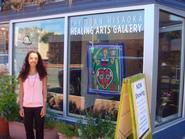 Pablo Picasso once said, "Art washes away from the soul the dust of everyday life." This summer, Eva Hunt '11 is discovering how art is used cathartically, but for some heavier dust than Picasso's; through internships with Project Create and The Smith Farm Center, Hunt is learning that art can be therapeutic for children and adults alike.

Interested in working for a non-profit organization in Washington, D.C., Hunt found two that fit well into her sociology major and art minor. Both Project Create and The Smith Farm Center had never worked with an intern before, so Hunt worked with each organization to create her position. "I became interested in these specific organizations because they both involve working in an art environment and they both provide the opportunity to work with professionals in D.C.'s art scene," Hunt said.

Project Create was established in 1994 with the goal of educating young people who live in emergency, transitional, and long-term affordable family housing, or who are homeless. These children often do not have any access to art or the valuable skills that accompany artistic expression: "Staff members at Project Create believe that arts experiences are essential to a child's development, and that they empower children to reach their potential by fostering critical thinking skills, creative expression, self-esteem and social skills," Hunt explained.

She works closely with the program's executive director and her duties vary widely: designing the summer art workshops and classes, teaching alongside local professional artists, developing educational packets with guidelines for teachers, planning educational trips to local art exhibits, and conducting research about how to work with high-stress children who have been exposed to trauma. "For many of these children, art provides a creative outlet and the opportunity to explore their own perspectives on life," Hunt observed.

But she feels that she has truly found her calling working with The Smith Farm Center. The organization's primary concern is to provide alternative outlets and therapy for people with cancer and other serious illnesses. They have several facets to their organization, involving on-site classes and workshops (such as nutrition classes, yoga classes and art workshops) as well as an artist-in-residence program at three D.C.-area hospitals in order to allow patients to express themselves through various artistic mediums. "All activities are intended to reduce the fear and stress associated with cancer, and to instill cancer patients with a feeling of control and empowerment," Hunt said.

She spends most of her time at the Center's most recent project, The Joan Hisaoka Healing Arts Gallery. Created by a grant established by a former Smith Farm member after she lost her battle with cancer four years ago, the gallery aims to use art "to unite, uplift, teach, build communities, transform lives, inspire and heal," according to the Smith Farm Center website. Hunt spends her days welcoming visitors to the gallery, giving tours, writing and distributing information about pertinent exhibits and events, researching and contacting new local artists who might be interested in showing their work, and planning weekly events. The gallery's exhibit in July was called "Through Their Eyes," which consisted of a series of photographs taken by Haitian children after the earthquake that struck in January.

Hunt hopes to continue her interest in the relationship between therapy and art by pursuing a career with an organization like The Smith Farm Center. "I find the work that Smith Farm does fascinating, and in particular I am interested in working with women who have experienced physical and emotional hardship due to reproductive illnesses," Hunt said. "Both internships have provided me with useful insight into the non-profit world and have enhanced my critical thinking, writing, listening, and communication skills."

Hunt's experience was made possible by the Joseph F. Anderson Internship Fund, which provides stipends to students who wish to accompany their academic studies with a real-world, career-based experience. It must be an unpaid position, and the Fund is open to students in all majors.

Hunt is a graduate of Litchfield High School in Litchfield, Conn.