Ding '14 Interns at $30 Million Hedge Fund
---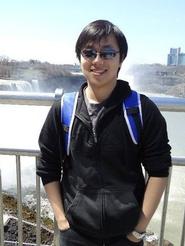 Mao Ding's '14 work schedule is anything if not intimidating. Ding arrives at his internship at New York City's Capital Priority Management LLC at 8:30 a.m. and stays till 6 p.m., but that's only on the rare occasion when he hasn't gotten in early or stayed late to conduct additional equity and bond research and analysis. Priority Capital Management is a $30 million hedge fund that specializes in managing assets for high-net-worth investors in the high-yield bond market.
Although Mao is only an intern, he often has the opportunity to present his assessments directly to the firm's partners and even sits in on meetings with clients. Ding's internship is support by the Rice Summer Internship Support Fund, which is administered by the Maurice Horowitch Career Center.
Ding, an economics and mathematics concentrator, has previous internship experience working with investment firms and hedge funds, so this summer he focused on finding a finance internship that emphasized portfolio management.
Ding begins his day by reading pre-market news on the Euro-zone to get a general sense of the day's market. He then shifts his focus to valuations, or estimates of assets' values, for companies assigned to him by supervisors. To do this, he performs a fundamental analysis on each company's financial records, structure, business model and transaction history. Ding also performs valuation-comparables analysis, a method of estimating the value of an asset by comparing it to similar assets with known values. He may also conduct sell side equity and credit research to obtain an estimate of an assets potential future value.
After Ding has preformed exhaustive research to come up with an assigned company's valuation, he prepares a presentation to deliver to his supervisors and firm partners. Ding recalls that at the time of his first presentation he was "a little bit nervous, but thanks to [my] preparation, I did a great job and [my supervisors] all liked my presentation." He notes that while the supervisors and partners at Priority Capitol Management all have distinguished careers in banking and finance, their desire to help interns learn makes the presentation process much less intimidating.
Presentations from interns like Ding at Priority Capitol Management are far from a formality or "busywork," as intern recommendations directly contribute to the decision-making process undertaken by fund managers. Giving presentations and recommendations to partners is one of the most rewarding aspects of Ding's work, and he enjoys taking inspiration from the presentations of his fellow interns and knowing that his work directly contributes to safeguarding the investments of Capital Priority Management's clients.
Ding plans to pursue a career in asset management, and he believes that the experience and mentorship he has received while working at Capitol Priority Management will be instrumental in his post-Hamilton pursuits. Ding recommends that Hamilton students interested in finance pursue financial services internships like his, because while the work can be challenging and the hours long, the real world experience and networking is priceless.
Ding is a graduate of Chengdu Experimental Foreign Languages School (China)