Department of Music Presents Gilbert and Sullivan's Iolanthe
---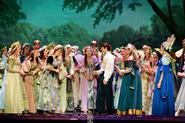 The Hamilton College Department of Music staged the annual choir musical, Iolanthe, with book by W.S. Gilbert and music by Arthur Sullivan. The fully staged show, performed Feb. 8-10, was directed by G. Roberts Kolb with choreography by Nancy Long and set and lighting design by William DiPaolo.
Iolanthe is a comic opera that satirizes the British political system. The play opens with the fairies mourning the anniversary of Iolanthe's exile, a fairy that committed the crime of marrying a human 25 years prior. When the fairy queen is convinced to pardon Iolanthe, the banished fairy is brought back with her son, Strephon. It's soon revealed that Strephon is in love with Phyllis, the ward of the Lord Chancellor. Unfortunately, the Chancellor forbids Strephon from marrying Phyllis because of his low rank. When Phyllis asks for Iolanthe's help, things begin to look up for not only Strephon, but all of fairyland as well.
Principal female roles in the production included Mackenzie Leavenworth '15 as Celia, Madison Kircher '14 as Leila, Kim Hughes '14 as Fleta, Katie Puccio '15 as the Queen of the Fairies, Andrea Wrobel '13 as Iolanthe and Alexandra Kaplan '13 as Phyllis. Male principals were Andrew Nichols '14 as Stephron, Brian Evans'15 as Lord Chancellor, Jeremy Brendle'14 as Earl Tolloller, Will Robertson '14 as the Earl of Mountararat and Robby Wittner '13 as Pvt. Willis.