COOP Service Interns Practice their Passion
---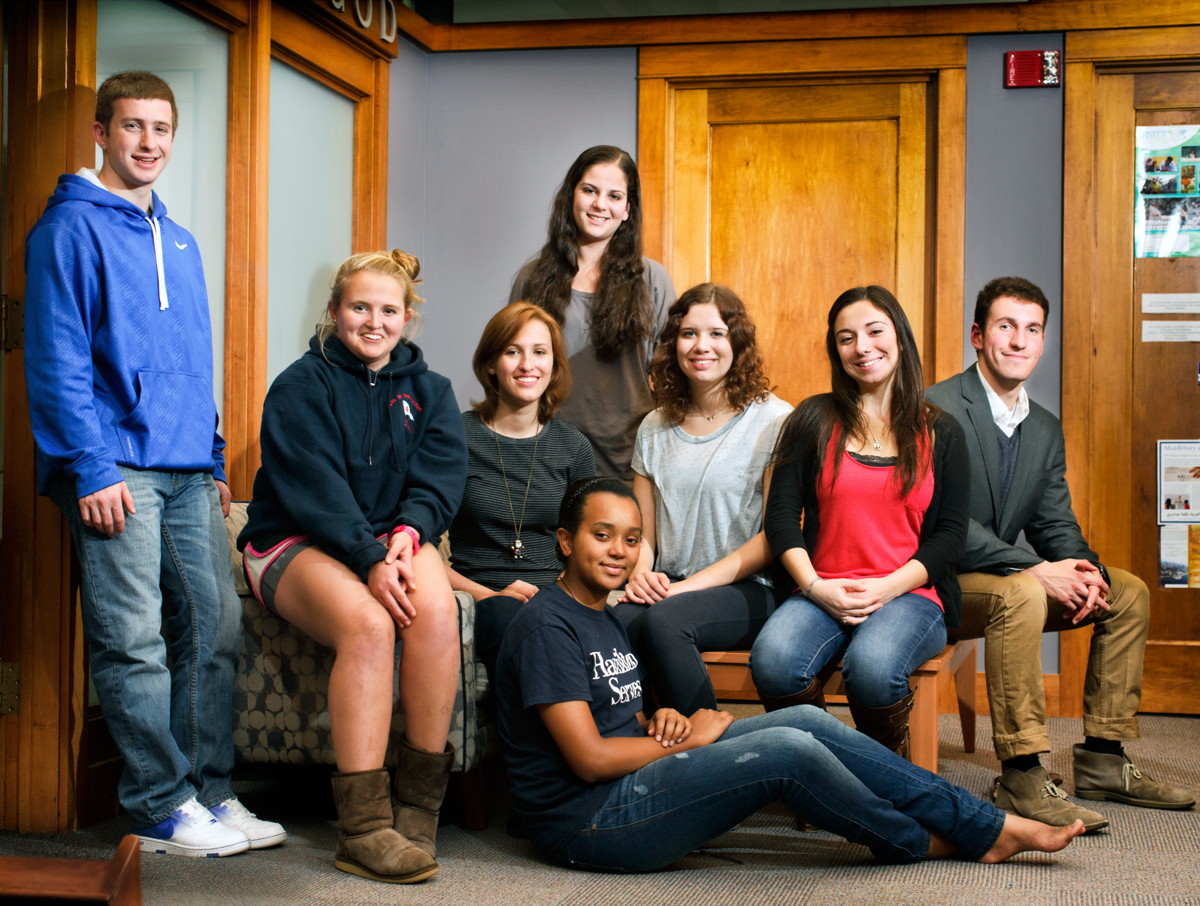 Eight members of the class of 2016 are getting the chance to change the world for the better as Community Outreach and Opportunity Program (COOP) Service Interns. The students, all of whom were active volunteers while in high school, become interns for local nonprofits during their first two years on the Hill.
The COOP Service Internship (CSI) Program began in fall 2009 to put Hamilton students in close contact with area service organizations. Each student works at least six hours per week on site at their agency. These interns gain not only valuable real-world experience – ranging from serving meals in a soup kitchen to accounting for an artists' residency program – but garner connections for the future. When a group of interns "graduates" after their sophomore year, they're on the road to becoming leaders in the community.
The class of 2016's CSI are Emily Goldberg, Lana Gura, Tsion Tesfaye, Kate Cieplicki, Angela Pavao, John Rufo, Max Newman and Sarah Graves.
These first-year students, still adjusting to their new work environments, have already found the experience enlightening. Goldberg, working for Hope House soup kitchen, commented, "I've gained much insight into how soup kitchens run, and I'm beginning to learn about Hope House's financial situation and how the budget is managed. Over the course of my two years there, I hope to focus on both the budget and implementing protocol for recruiting volunteers," she added.
John Rufo is as an intern at the Mohawk Valley Resource Center for Refugees (MVRCR), an organization dedicated to providing people displaced by persecution with a renewed certainty of home and life. His time at MVRCR is split between two duties: he writes grants to receive money from state agencies for the organization and he will be contributing pieces to its newsletter. He says he looks forward "to being an active part of Utica's diverse culture."
These interns are asked to tackle head-on the myriad administrative and organizational tasks of community service. Angela Pavao, at Sculpture Space, has thrown herself into the immense infrastructure of community service. "Since my arrival I've done some basic accounting, circulated applications for our residency program, compiled PDFs, made copies, and even helped with gardening. In the long term I'll be responsible for miscellaneous tasks while also working with my supervisor to create a community sculpture garden," she added.
Another CSI working in the arts is Max Newman, at the Kirkland Arts Center (KAC). "My internship at KAC entails a variety of different projects. I write press releases for upcoming events, make spread sheets and help with daily art projects," he noted. "In the long-term, I hope to start and organize a film festival for high school students through the KAC."
The responsibilities of a service intern are two-fold. They work directly with an administrator from their partner nonprofit, who advises them in both the administration of community service programs as well the responsibilities of direct service. At Hamilton, each intern meets for two hours per week with their campus mentor, a member of COOP who helps integrate their service with life on the Hill.
The newest CSIs have already brought some of their work home with them. "I work on organizing other For the Good programs like the Study Buddy tutoring program that takes place at Hamilton," said Lana Gura. Like many of these interns, Gura has long-term plans and aspirations for her two years with the CSI program. She intends to work more intensively with For the Good's newspaper, The Utica Phoenix.
Generally, the first semester functions as an orientation to an intern's agency, said COOP director Amy James. But as time goes on, students become more fluent in their agencies' daily functions. By the second semester, many are doing independent work, she explained.
As an intern in the Utica Public Library's Children's Room, Kate Cieplicki's main responsibility "will be to promote Early Literacy in the community. To do this," she said, "I'm helping my mentor put together a comprehensive, hour-long workshop for parents and children, to help parents gain the tools necessary in helping their children learn to read."
Tsion Tesfaye describes her placement at the Resource Center for Independent Living (RCIL), an organization that strives to advance the civil rights of individuals with disabilities. "As an intern with the Planning Department, I help the director, Ellen Holm, with organizing and analyzing data. I'll also be working with RCIL's Advocacy program, which helps individuals with disabilities in times of desperate needs. Their support ranges from providing immediate food to assisting in the process of applying for jobs," Tesfaye said.
Sarah Graves is an intern with Lutheran Care Active Day and Your Neighbors. "On the days that I focus on Active Day I make sure everything is set up for the seniors, interact with them, and help them participate in the activities," she said. "Your Neighbors is a program that connects volunteers with seniors who need rides to appointments, the bank, or shopping excursions, and it also has a meals-on-wheels type program. When I'm helping with Your Neighbors I help maintain the database of volunteers, donations and scheduling that needs to happen for the program to run."
Graves concludes with a sentiment that describes another benefit of the CSI program. " It's been great getting to know these seniors from the community and I can't wait to develop a deeper connection with these organizations."