Conversation with John Lawrence '10
---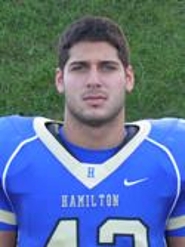 This is the fourth installment in a series of interviews with Hamilton College student-athletes. John Lawrence '10 is a two-year captain and will earn his fourth varsity letter for the football team at the end of the season. Lawrence -- a linebacker -- was selected the New England Small College Athletic Conference rookie of the year in 2006. Last year he led the conference with seven interceptions and picked up second team all-conference honors. Prior to the 2009 season, he was named a preseason All-American by one sports publication. Lawrence and his teammates aim for their second win this year on Saturday, Oct. 24, when they host Colby College at Steuben Field at noon.
Q: Tell us a little bit about where you grew up.
A: I grew up in the town of Baldwinsville, which is about 15 minutes west of Syracuse. I guess Baldwinsville is a typical Central New York town. We have our fair share of corn fields but we also have a good deal of malls and golf courses. What really makes Baldwinsville special is the people. I have never been around an area that rallies around the community like Baldwinsville does.
Q: Did you play any other sports before you came to Hamilton?
A: In high school I played on the varsity basketball, lacrosse and tennis teams. However, I always played these sports like I did football. My basketball coach would always tell me I could not make a shot unless I got hit attempting it.
Q: How did you get interested in football? Have you always played linebacker?
A: My interest started in football when I was 2 years old, when my parents got me a Giants uniform complete with a helmet. When I was 4 my parents signed up my brother for football and I begged and begged to play. So after as much debate as parents can have with a 4-year-old, they forged my birth certificate to say I was 5 so I could sign up for Pop Warner football. Since then I have been playing football for 17 straight seasons and don't want to think about how I am going to feel when it ends after this season. When I was younger, I played both running back and linebacker, but I always felt more comfortable at linebacker. However, at Hamilton I have played a variety of positions ranging from running back and tight end on offense, to safety and outside linebacker on defense.
Q: Is there one football player you have tried to emulate, either on or off the field, as you got older?
A: If there was one player I tried to emulate on the field it would have to be John Riggins. My Uncle Bob was a big Washington Redskins fan and loved the way John Riggins played as hard as he could on every play. After each one of my Pop Warner games my uncle gave me a dollar for every big tackle or big run. In third grade I even shaved my head into a mohawk like John Riggins a week before school pictures (sorry mom).
Q: There are several Division III football programs in Upstate New York. How did you decide on Hamilton?
A: I was getting recruited by St. Lawrence and Hobart when I got a call from Mike Tracy, the newly acquired defensive coordinator at Hamilton College. After an hour-long phone conversation about how good Hamilton is academically, he convinced me to come on a visit. Once I got here I realized how beautiful the campus was and thought this is a place I want to spend my next four years. After touring the campus I had a meeting with head coach Steve Stetson. After our meeting I shook his hand and saw his commitment and vision to this program and I was convinced. I applied early decision the next day.
Q: You were selected NESCAC rookie of the year in 2006. What were your expectations of this program and the conference when you were a freshman?
A: Although I grew up only an hour away from Hamilton College, I had never heard of it or the NESCAC before being recruiting here. So I guess it was a similar learning curve with the rest of my college experiences at Hamilton. My expectations of Hamilton football were pretty consistent with what I have experienced, except for the fact that a college football team is more like a family than I would have imagined. In high school you relied on your team for maybe three hours a day and then it was home to your family. Here at Hamilton the team is with you all the time through good and bad days, which creates a family feel to the team.
Q: To be a team captain for two years is rare in college football. What have you been able to take from that experience as a junior and apply it to this season?
A: I learned a lot from being a captain last year as a junior that I have tried to apply this year. First of all, last year there were three senior captains that took a more vocal role of leading the team, while I was able to try to lead by example. This year as a senior I have stepped up and filled that void. Not only by leading by example, but being more vocal in the locker room and on the field. In addition to being more vocal I thought it was necessary to bring the team closer together with different team-bonding activities. For example, the captains organized a team BBQ and a three-hour session on the Hamilton College ropes course this year.
Q: What was your reaction when you discovered a publication had named you a preseason Division III All-American?
A: Well, I guess my first reaction was amazement. I had never even considered the possibility of being selected for this award, so when Coach Tracy called and told me I was stunned. It is one of the most prestigious honors I have ever received. I was also made aware by my coaches that a preseason All-American is just that; a preseason prediction that has given me more motivation to go out and continue playing as hard as possible.
Q: You led the NESCAC in interceptions last year with seven. Is intercepting passes something that just happens for you or can you focus on that?
A: I guess it is a little bit of both. I honestly believe we are the best-prepared defense in the league, and when you know the tendencies of the team you are playing, you are able to be in position to make interceptions. One of our mottos on defense is, "Success is when preparation meets opportunity." Other times I get interceptions on instinct, which comes from the experience I have gained from playing over 150 games during 17 seasons.
Q: The defense has enjoyed some outstanding seasons since you have arrived. What's the key to that success?
A: Finally an easy question. Defensive Coordinator Mike Tracy. As I previously stated, we are the best- prepared defense in the league, which is a reflection of how hard our coaching staff works. Our defensive system is based upon the principle of working together as a whole unit. We say all the time that each one of us has to be our little piece of the puzzle for our defense to work.
Q: What is your favorite class and/or instructor at Hamilton, and why?
A: My favorite instructors at Hamilton would be the entire economics department. Not only have I learned so much from all of them, but they have also encouraged me to be a student-athlete. Many of them go out of their way to ask questions about the football team, showing interest in my life outside the classroom.
Q: What will John Lawrence be doing five years from now?
A: Definitely working, I am just not sure where yet. I have always wanted to start my own business, whether or not that will happen in five years I don't know. I guess the one thing I know I will being doing in five years is enjoying life, no matter what I am doing.