National News Highlights from 2012
---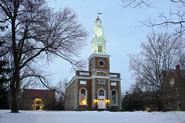 The national media highlighted Hamilton College in multiple ways throughout 2012 by focusing on faculty research and expertise, featuring opinion pieces, and announcing new endeavors and special student projects. From The Today Show to NPR's All Things Considered to The Chronicle of Higher Education, the college was visible in the media across the country.
Ann Owen, the Henry Platt Bristol Professor of Economics, responded to a stream of media requests on matters related to the Federal Reserve from outlets including National Public Radio, American Public Media's Marketplace, The Wall Street Journal, Reuters and the Christian Science Monitor, among others. Dan Chambliss, the Eugene M. Tobin Distinguished Professor of Sociology, shared findings from his Mellon Foundation-funded longitudinal study and forthcoming book, How College Works, with many publications, including: The Washington Post, The New York Times, The Chronicle of Higher Education and The Hechinger Report.
Other expert respondents included Professor of Sociology Dennis Gilbert who discussed issues surrounding the definition of the middle class with reporters from the Associated Press, American Public Media's Marketplace, NBC.com, and Connecticut Public Radio. S. Brent Plate, visiting associate professor of religious studies, shared his observations on the intersection of popular culture and religion in The Washington Post, the Houston Chronicle and Religion Dispatches among others. Eugene Domack, the Joel W. Johnson Family Professor of Geosciences, responded to questions related to his Antarctic expeditions on National Public Radio, and his research was referenced in Scientific American. The Christian Science Monitor featured extensive quotes by Edward Walker '62, the Christian A. Johnson Distinguished Professor of Global Political Theory, in an article about Secretary of State Clinton's meeting with Egypt's President Morsi.
Several faculty members shared their findings and opinions in essays. Associate Professor of Government Peter Cannavò addressed issues of economic individualism and global climate change on Huffington Post; Maurice Isserman, Publius Virgilius Rogers Professor of American History, wrote about the life and ideals of The Other America author Michael Harrington in The New York Times and The Nation; Philip Klinkner discussed why Governor Romney's vice presidential selection was not a good one in the Huffington Post and what moves the Republican Party might make following Romney's defeat on NPR's It's All Politics blog and on the Huffington Post's Republican Party homepage; and P. Gary Wyckoff, professor of government and director of the public policy program, defined elements of critical thinking using provocative examples from the political realm in an Inside Higher Ed essay.
President Joan Stewart also penned an opinion piece for Inside Higher Ed on how college presidents might evaluate their decision-making processes in making institutional changes. She wrote two other pieces for the Huffington Post, one that addressed the transforming potential of individual example and community action with timely references to Victor Hugo's Les Misérables and another on the purpose of education.
The nationally syndicated public radio program Academic Minute, produced by WAMC, broadcasted short essays on the middle class, holiday traditions in ancient Rome and mythology, read by Professor of Sociology Dennis Gilbert, Edward North Professor of Classics Barbara Gold and Winslow Professor of Classics Carl Rubino respectively. All Academic Minute essays are simultaneously presented on InsideHigherEd.com.
Several student/faculty research projects resulted in media attention. The Chronicle of Higher Education focused on Assistant Professor of Anthropology Nathan Goodale's research and field school in British Columbia, Canada. The article provided an overview of Goodale's work and addressed research projects he conducted with Associate Professor of Geosciences David Bailey, Visiting Instructor of Anthropology Alissa Nauman and students.
The Associated Press reported on a study co-authored by Kendall Weir '12 and Professor of Economics Stephen Wu that analyzed the factors affecting price and performance when making NFL draft decisions. This study was extremely popular in the media, attracting the attention of ESPN, CNN, Reuters and the public radio program Only a Game, among others. The 2011 National Pundit survey, conducted by five seniors under the guidance of Professor of Government P. Gary Wyckoff, continued to be referenced in the media including by Mediabistro.com.
Dean of Admission and Financial Aid Monica Inzer represented Hamilton twice last spring on NBC's The Today Show, discussing issues relating to college selection and financial aid. The Chronicle of Higher Education's "Hey, Students, Your Education Costs More Than You Might Think" featured several college administrators and students. The article described a campus event marking the day on which tuition stops covering costs. USA Today focused on another, quite different, campus endeavor. Jeremy Young '13 and his entrepreneurial venture, Hillfresh, was part of a feature about student entrepreneurial ventures.
As news began to spread about the new Ruth and Elmer Wellin Museum of Art, media attention also grew. Articles have already appeared on Forbes.com, ArtDaily.org and Dexigner.com.
Finally loyal alumni continued to reference their Hamilton education long after graduation, elevating the college's profile at every media opportunity. In a Chronicle of Higher Education article highlighting the value of a liberal arts education, Hamilton Board of Trustees Chair and former Procter & Gamble CEO A.G. Lafley '69 credited his undergraduate education for his success. He also highlighted the college in Adweek's "What Makes a Legend Tick?: Seven industry leaders join the Advertising Hall of Fame." Several political candidates spread the Hamilton name during their campaigns including U.S. Representative Matthew Cartwright'83, president of the House Democratic Freshmen Class, who was profiled by the National Journal; Ron Kim, the first Korean American elected to the New York State Legislature, whose race was covered in many New York papers; and congressional candidate Christie Vilsack K'72 who lost her bid to represent her district in Iowa and who received media attention throughout the state.