Brow '12 Takes Active Role in Utica Museum
---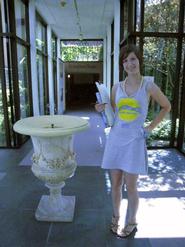 A museum doesn't have to large or showy to be an influential and cherished part of a community. In fact, smaller museums can still have a significant impact on their environment while housing invaluable works of art. Kelsey Brow '12 is spending the summer as an intern for the Museum Education department at the Munson Williams Proctor Museum of Art in Utica, N.Y. Her internship is supported by the Couper Fund through Hamilton's Career Center.
Brow, an art history and French double major, has enjoyed working at Munson Williams Proctor for its small size, allowing her to act as a real contributor to the organization. At larger museums, interns often do not get their voices heard, but at Munson William Proctor, Brow has attended important staff meetings, written museum labels, and provided help in a constructive and meaningful way.
As part of the Museum Education team, Brow has helped with ArtReach program, a three-week program where children, often from disadvantaged backgrounds, come to Munson Williams Proctor through various community centers. Children participating in ArtReach complete an educational and fun art project, have their pieces installed, participate in gallery games, and get a tour of the museum. Brow recently created a new game to accommodate a group of primarily non-English speaking children.
Brow is in the process written scripts for audio guided tours of the Decorative Arts wing, which will hopefully be recorded and available for use in the coming months. She has also written some of the museum labels for the Global Traditions exhibition, which showcases ethnic wedding gowns. In addition, she is working curator of modern and contemporary art on the Summer Sidewalk Arts Show and for the installations team.
The Munson Williams Proctor Museum of Art started as a home owned by a couple in the nineteenth century. In the 1850s, the couple began to collect art from prominent New Yorkers, and their original home is now the decorative arts wing of the museum. In 1936, their descendants founded the museum, and the art collection has expanded to include many important and world-renowned 19th and 20th century artists. Munson Williams Proctor now houses thousands of pieces, from paintings and sculptures to decorative Victorian arts. In addition to its impressive collection, the museum organizes many community events, making it an influential institution in the area.
On campus, Brow enjoys spending time in Burke Library and relaxing with friends, and she looks forward to returning to campus. In her free time she enjoys sewing, cooking and watching classic films.
Brow has enjoyed meeting museum employees and learning about how they ended up at Munson Williams Proctor. She says, "I love the sense of community here, not only within the staff, but with the general public. I hope a career like this is in my future!"

Kelsey Brow is a graduate of Lakewood High School (Colo.)