Brousseau '12 Helps Injured Soldiers Get Back on Their Feet
---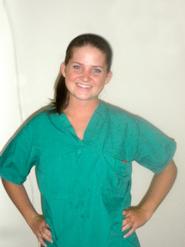 With the latest advances in prosthetic and orthotic technology, injured people can resume many activities, from biking to rock climbing. The field of prosthetics is particularly important to military personnel and retirees, many of whom face loss of limb from their injuries. Lauren Brousseau '12 is a summer intern in the Prosthetic and Orthotic Service at Walter Reed Army Medical Center in Washington, D.C. Her internship is supported by the Jeffery Fund through the Career Center.
Brousseau's position allows her to work directly with patients and in the lab. She says that through her experience at Walter Reed, she has gained confidence in her ability to work with prosthetics and has accumulated a wealth of knowledge and skill in this field. Brousseau works as a lab technician, taking an active part in the prosthetic fabrication process. She is also able to shadow the prosthetists, thus developing an eye for detail, so that the prosthetic will fit the patient in the best possible way. Brousseau says, "I feel like I truly understand the process from top to bottom, and would feel comfortable completing independent work as a tech."
After a prosthetist takes a mold of the patient's limb, Brousseau fills the cast, and she is constantly learning how to modify this plaster mold to fit the patient better. Brousseau then heats up a large plastic sheet until it starts to soften and droops down. She flips the sheet and fits it over the mold then cuts it out, shaves it down and plates it into a specific alignment.
This socket attaches to a variety of knees or feet, depending on whether the leg was amputated above or below the knee. A typical patient will go through several of these plastic sockets before he or she can be fitted with a carbon fiber socket, which is more permanent. Brousseau is also involved in the process of making these carbon fiber sockets, which entails an entirely different procedure.
The Walter Reed Medical Center first started treating patients in 1909, and has since developed into the U.S. Army's flagship medical center. Walter Reed serves more than 150,000 active and retired personnel from all branches of the military. Though nine out of 10 soldiers currently survive their war injuries, many are left with permanent damage such as limb loss. Walter Reed treats almost all the amputee patients in the army, utilizing the latest and best prosthetic and orthotic techniques to help these soldiers keep doing what they love. Brousseau says that she has seen patients fitted for biking, running, rock climbing, skiing, swimming, and hiking legs, to name a few.
Brousseau, a biology major, has also had the opportunity to work with incredible people and listen to their stories, which she ranks as a highly enjoyable aspect of her position, especially because she grew up as an "army brat." Though she had seen a prosthetics lab prior to her work at Walter Reed, this is the first time that she has gotten so intimately involved with the process of creating prosthetics. Brousseau hopes that her experiences at Walter Reed will help her gain admittance to a graduate program and pursue a career as a prothetist.
At Hamilton, Brousseau is an EMT, she is on the women's soccer team and a member of the sorority Alpha Theta Chi.
Lauren Brousseau is a graduate of Heidelberg American High School in Heidelberg, Germany.