Bourne Braves Internship a Hit for Dan Kroening '11
---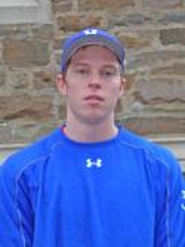 From the pitchers' mound to the concession stand, Daniel Kroening '11 can't get enough baseball. One may think that the 33 games of the varsity baseball season and playing in a local summer league would sate his thirst for the great American pastime, but Kroening just keeps coming back for more. Kroening is learning more about the behind-the-scenes elements of the game in his internship with amateur baseball league franchise the Bourne Braves.

Based in Cape Cod, Mass., the Bourne Braves are a member of the Cape Cod League, the most prestigious amateur baseball league in the country. High-level college players spend their summers showing their stuff to the adoring community as well as to the professional scouts that frequent the games. The team plays an important role in the Cape Cod community as well: "[The Braves] provide the community with a popular option for summer entertainment without charging admission, while also bringing the community together in support of the team," Kroening said.

As an intern, Kroening's duties take him to almost every part of the ballpark. Some days he works the grill at the concession stand, other days he sells raffle tickets, and still others he takes care of the scouts that watch the game, bringing bottles of water or talking baseball with them. But most importantly, Kroening and the other interns spend their time interacting with fans and Braves alumni. "[We try to] inspire donations, which are the main source of revenue for the organization," he said.

The Braves will open many doors for Kroening when he pursues his intended career in the front office of a professional baseball team. He hopes to stay in Massachusetts, working with the Boston Red Sox or the Lowell Spinners. "Since the Bourne Braves see so many professional scouts and other professional baseball personnel, receiving a good recommendation from them will greatly help when applying with professional organizations," Kroening said; some of the more famous people he has already met in this first half of the season include ESPN analyst Peter Gammons and Red Sox general manager Theo Epstein.

And as with almost any industry, contacts are an important stepping stone to success. The Braves also has an extensive network of both players and interns who have found careers with professional baseball organizations and franchises, and many of these alumni remain connected to Braves by donating money and providing job opportunities for Braves' "graduates," which will surely be useful for Kroening once he finishes at Hamilton.

Kroening's experience with the Bourne Braves is subsidized by the Summer Internship Support Fund which is administered through Hamilton's Career Center. This fund supports the cost of living assistance to students who might otherwise have insufficient resources to take on a summer internship, including a paid or unpaid opportunity at a for-profit or not-for-profit organization.

Kroening is a graduate of Littleton High School in Littleton, Mass.