Baseball wraps up Florida trip on high note
---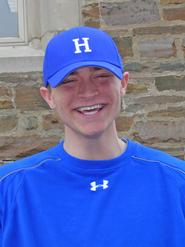 Justin Atwood '11 had three hits, including a triple and a home run, scored two runs and drove in two to help lead Hamilton College to a 9-7 win against Westminster College at Lake Myrtle Park in Auburndale, Fla., on March 27.
Hamilton (8-6 overall) returns to New York and is scheduled to play a non-conference game against Skidmore College at Royce Field on Sunday, March 29, at 1 p.m. Westminster (2-11) is an NCAA Division III school located in Missouri.
Michael Matt '11 collected three hits, scored twice and drove in a run. Wes Mayberry '11 doubled, singled, scored two runs and drove in a pair. Joe Buicko '11 contributed two singles and two RBI. Sam Choate '12 also homered.
The Continentals snapped a 4-4 tie with three runs in the top of the fifth inning. Hamilton added another run in the sixth for an 8-4 lead. The Blue Jays rallied with single runs in the sixth, seventh and eighth innings to pull within 8-7. The Continentals gave themselves some breathing room with a run in the ninth.
Max Foster '10 slammed the door on Westminster in the ninth to preserve the victory. Foster allowed one run on three hits, walked one and struck out three in two innings. He was credited with his second save.
Brendan Rafalski '11 earned the win with four innings of solid relief pitching. Rafalski surrendered one earned run on three hits, walked five and fanned three as his record improved to 1-2. Alex Augustyn '10 started on the mound and lasted three innings.