Baseball sweeps Framingham State in season opener
---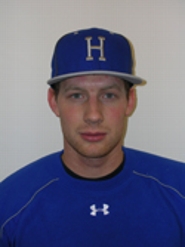 Hamilton College's Lukas Bridenbeck '13 racked up three hits, drove in four runs and scored three times, and the Continentals swept Framingham State University in a non-conference doubleheader played in Winter Haven, Fla., on March 17.

Hamilton (2-0 overall) won 11-3 in the first game and completed the sweep with an 8-3 victory in the nightcap. The Continentals are in Florida until March 26 for a 13-game spring trip. Hamilton plays two games against SUNY Plattsburgh on Tuesday, March 19.

In the first game, Alex Pachella '15 allowed two earned runs on eight hits and struck out four in a complete game effort. Bridenbeck singled, doubled, knocked in three runs and scored twice. Tim Burke '16 went 2-for-3 with a double, three runs and an RBI in his first collegiate game. Gabe Klein '13 also finished with two hits and three runs. Joe Jensen '15 had one hit, three stolen bases and two RBI.

Cameron Coulliard was a perfect 3-for-3 with a double and Ivan Colon went 3-for-4 to lead the Rams. Justin Forman drove in two runs.

Hamilton scored a pair of runs in the first and second innings for a 4-0 lead. After loading the bases in the first inning, Burke and Klein scored on an errant throw by Colon. Burke drove in Sam Fuentes '13 from first with his two-out double to right center in the second inning. Burke later scored when Klein reached on an error.

Framingham State (1-4) responded with three runs in the third and cut its deficit to 4-3. The Rams loaded the bases with two outs and Forman plated two runners with a single up the middle. Colon also scored in the inning.

In the fifth, Bridenbeck doubled in Klein and Jensen knocked in Brian Ferrell '16 with a single. With runners on second and third, Nick Taylor '15 hit a sacrifice fly that drove in Bridenbeck, and Jensen scored on a passed ball for an 8-3 lead.

The Continentals tacked on three more runs in their half of the sixth for the final margin. Hamilton loaded the bases with no outs when Bridenbeck hit a single to left that drove in Burke. Jensen followed with a fielder's choice that plated Klein for the inning's second run, and after Taylor loaded the bases again, Bridenbeck scored on a fielder's choice by Tyler Reinhold '15.

In Game 2, Hamilton was led by four players who recorded multi-hit games. Ben Goffin '15 and Zach Becker '16 posted two hits apiece with a double and two RBI. Klein went 2-for-3 with a double and Taylor had two hits and scored twice. Colin Henneberger '14 scattered eight hits and three runs over 5.1 innings.

Mark Mainini, Couillard, William Crofton and William Desrosier all finished with two hits for Framingham State. Desrosier also knocked in a run.

Hamilton exploded for a five-run first inning and never looked back. Klein's double put runners on second and third, and Goffin followed with another double down the left field line that plated both runners. Bridenbeck doubled in Goffin and later scored after two wild pitches. With the bases loaded, Fuentes drew the third straight walk in the inning, and Taylor scored the fifth run.

The Rams scored one run in both the first and second innings and pulled within 5-2. The teams traded runs in the third and Hamilton led 6-3. With one out in the first, Framingham loaded the bases, and Desrosier singled up the middle for the Rams' first run. The bases were still loaded, but the Continentals turned a double play and ended the rally. In the second, Jake Wardwell's one-out double drove in a run.

In the top half of the third, Becker knocked in Reinhold with a single after Reinhold smacked a two-out double. The Rams answered in the bottom of the inning. Forman plated Croton on a fielder's choice with the bases full and nobody out. The Continentals added the final two runs in the fifth inning on RBI singles by Becker and Burke.