Baseball sweeps another doubleheader in Florida
---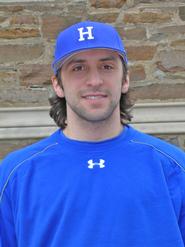 Hamilton College won the first game with a run in the bottom of the seventh inning and the Continentals went on to sweep a doubleheader against Kalamazoo College at Lake Myrtle Park in Auburndale, Fla., on March 25.
Hamilton improved to 7-5 on the season and has two more games remaining in Florida before returning to central New York. Kalamazoo, an NCAA Division III school located in Michigan, fell to 3-5.
Grady Vigneau '10 led a strong Hamilton offense to a 9-8 win in Game 1. Vigneau went 3-for-3 with a double, drove in three runs and scored twice. Wes Mayberry '11 went 2-for-2 and scored three runs, and Sam Choate '12 finished 2-for-3 with a double and two RBI.
Max Foster '10 started on the mound for Hamilton and pitched six strong innings as he left the game with an 8-4 lead. Foster tied a career high with 11 strikeouts and gave up four runs on seven hits in the no-decision. Justin Atwood '11 took over in the seventh inning, and Michael Caruso '12 picked up the win after he recorded the final out in the inning.
Kalamazoo rallied with four runs in the top of the seventh to tie the score at 8-8. Hamilton loaded the bases on an intentional walk in the bottom of the frame, and Choate was hit by a pitch to force in Jeremy Brenner '10 for the win.
In Game 2, Hamilton took a 1-0 lead after the first inning. Kalamazoo tied it in the bottom of the third, but the Continentals used a three-run fifth inning to take the 4-1 win.
Alex Augustyn '10 recorded his second save after holding the Hornets scoreless in the sixth and seventh innings. Augustyn relieved Jake Saidman '09, who gave up just one run on three hits in five innings. Saidman fanned three batters and improved his record to 3-0.
Michael Matt '11 went 3-for-3 and Atwood was 2-for-2. Choate recorded a double and two RBIs. Atwood finished the day with four hits, including a double.
Hamilton faces St. Olaf College at Lake Myrtle Park on Thursday, March 26.