Baseball picks up 3-1 NESCAC West win at Wesleyan
---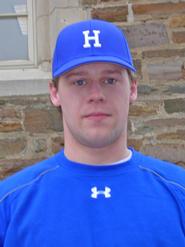 Max Foster '10 did not allow an earned run in an impressive 7.1 innings and visiting Hamilton College rallied for a 3-1 New England Small College Athletic Conference West Division win against Wesleyan University at Andrus Field on April 10.
Hamilton (10-8 overall, 2-1 NESCAC West) and Wesleyan will meet again on Sunday, April 12, for a doubleheader at the same location. First pitch is scheduled for 11 a.m.
Foster struck out seven batters and allowed just three hits as he improved to 3-0 on the season. He lowered his team-leading ERA to just 2.61 in 38 innings of work.
Alex Augustyn '10 pitched 1.2 perfect innings to pick up his third save of the year. Augustyn led Hamilton at the plate as he drove in the go-ahead runs with his fifth double this year. Justin Atwood '11 went 2-for-3 with one run scored. Wes Mayberry '11 had a single and an RBI.
Wesleyan (10-10, 3-3) opened the scoring in the bottom of the fourth with an unearned run. After a ground out, Foster walked a batter, then struck out another. The fourth batter reached base on a Hamilton error. The lead runner advanced to second and later scored on a double for a 1-0 lead. Foster recorded the third out with another strikeout.
Hamilton's offense awakened for three runs in the top of the seventh. Sam Choate '12 led off with a single and advanced to second on a sacrifice bunt by Michael Matt '11. Mayberry singled through the right side and advanced to third on a throwing error while Choate made it home to even the score at 1-1.
Atwood reached base after he was hit by a pitch and Augustyn plated both runners with a double to left field. Grady Vigneau '10 got on base with a single and Pat Gennaco '11 walked but Hamilton left the bases loaded.
Wesleyan stranded two in the bottom of the frame, and didn't get anyone on base in the final two innings.