Banhazl '12 Documents American Experience
---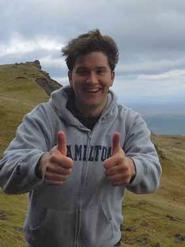 Documentaries have a way of making history come alive, and well-made and innovative documentaries are especially engrossing and vivid. Over the summer Brett Banhazl '12 will work in Brighton, Mass., with American Experience, an award-winning television show featuring documentaries on various topics in American history.
Banhazl received a stipend from the Summer Internship Support Fund through the Career Center. This fund was established in 2005 by John G. Rice, Class of 1978, to provide supplemental cost of living support to students pursuing summer internship opportunities.
As an intern for American Experience, Banhazl writes captions, copy edits articles, fact-checks secondary sources, and writes for show's blog and twitter account. Though the work is occasionally repetitive and may seem uninteresting on the surface, Banhazl enjoys learning from all the materials he comes in contact with. He relates, "The other day I spent 3 hours fixing the commas on one part of the website; by the time I was done I had a bit of a headache, but ask me sometime what I know about Abraham Lincoln and you'll be the one with the headache."
American Experience is broadcast on WBGH, the Boston PBS station. The show consists of 60-120 minute documentaries featuring people and events that are significant to shaping American history. Its unconventional, interesting storytelling techniques have earned it national recognition. For example, the documentaries frequently expand on seemingly insignificant objects and events to show broader themes in American culture. American Experience first aired in 1988, and has since won seven Emmy awards and been nominated for four Academy Awards.
Even before declaring his major in history or starting this internship, Banhazl has been fascinated by historical visual storytelling. He finds that by presenting material in this engaging format, it is much easier and more enjoyable to absorb the information than if the same thing were spoken in a lecture. He enjoys taking part in a work environment that provides this stimulating, educational service, and he hopes that his time with American Experience will teach him more about the documentary industry.
To Banhazl, documentaries are more than just a pastime or a source of entertainment, and he wishes to pursue a career in this field. He has already begun creating his own documentary, which will serve as his senior thesis over the next academic year. To fund the project, Banhazl was named a Casstevens Scholar and was awarded a grant from the Academic Fund for Seniors.
The film is about American G.I.s' experiences in and impact on Britain during WWII, where they were stationed in 1942-44 in preparation for the invasion on mainland Europe. The rowdy and largely uncontrollable soldiers "left an permanent mark on British history and culture," Banhazl says. He has already begun collecting some research for the documentary from the Imperial War Museum in London, and he has interviewed well-known British historian Juliet Gardiner.

Documentaries relate historical informational in an accessible, interesting way. Banhazl is very passionate about these educational films, and his work for American Experience and this own project bring him closer to his career goals.
Brett Banhazl is a graduate of Wayland High School in Massachusetts.