Aspiring Pre-Dental Student Interns at All-Female Practice
---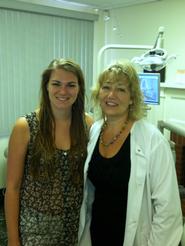 Biochemistry major Kailee Williams '13 has been considering a career in dentistry since she entered Hamilton. Although dental school is only a few years away, she decided to get some early career-related experience by interning at the dental offices of Dr. Cheryl Reygers in Homer, N.Y. Williams said that her unpaid internship experience would not have been possible without a stipend from the Jeffery Fund in Science, and she remarked that she is "so thankful to have the support of Hamilton's Career Center and those responsible for the Jeffery Fund."
Williams at first hesitated in describing her internship, saying that she could not think of an accurate title because she works in just about every capacity possible at the office. She spends her time processing x-rays, working on mouth molds, preparing dentistry rooms, scheduling patients and even carrying out insurance procedures.
The most exciting part of Williams' day actually occurs when she has nothing to do – this is because she spends any free time she has sitting in on procedures with Reygers and learning about the different issues and ailments dentistry can address. "I was honestly surprised at how much variety there was in dentistry," she remarked. Williams was also impressed by how much an emphasis Reygers places on integrating new technology and emerging techniques into her practice – "It has really showed me how much I can do in the future," she said.
While Williams was surprised by the variety of tasks she has had the opportunity to learn about over the course of her internship, she was even more impressed by the all-female work environment of Reygers' practice. "This really excites me as I learn more about the nature of the practice," she said, because, "Dr. Reygers built the practice herself… [she has] a successful, friendly and busy practice that inspires me as a female planning on entering this field."
Regarding her overall experience this summer, Williams said that she was still a bit unsure about her career path when she entered the internship, but added that she's has learned so much that she "feels like this internship has increased [her] interest and drive to go to dental school." She is particularly glad to have had the opportunity to learn about the medical and procedural aspects of dentistry as well as the business and patient interaction side of the practice.
Williams recommends that all Hamilton students pursue an internship in their intended career path. The experience may teach them that the field is not quite what they are looking for, or, like Williams, they might find that "getting the first hand experience and insight into something that they're interested in is really rewarding."
Williams is a graduate of Homer Central High School (N.Y.)