Arts Media Celebrate Wellin Exhibition
---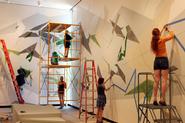 Metropolis, Hyperallergic and BOMB magazine's BOMBLOG have featured articles focused on Dannielle Tegeder's solo exhibition, "Dannielle Tegeder: Painting in the Extended Field," at the Ruth and Elmer Wellin Museum of Art within the last week.
"Shards of an Artist's Utopia at the New Wellin Museum" appeared in Hyperallergic, a well-regarded online arts website, on June 26. In her piece, writer Jillian Steinhauer described the experience of entering the museum, "You find yourself in a glass-lined central hall drenched dramatically in light and/or shadow, depending on the time of day. … it's a gorgeous museum, of a higher caliber than you might expect for the campus of a small liberal arts college in upstate New York (albeit one with an excellent reputation)." Commenting on the Tegeder exhibition, she wrote, "Nearly all of the pieces in the show share the same aesthetic, that of a colorful and reinvigorated mechanical modernism."
According to its website, "Hyperallergic's incisive coverage of art and its discontents has been cited extensively in outlets ranging from The New York Times, The Washington Post, and The Guardian to The Nation, WNYC, Gawker, Kottke, Andrew Sullivan, and Felix Salmon, among countless others."
"From Steam Fitting to Museum Fittings" by Paul Clemence appeared on June 29 on the Metropolis magazine website. In his description of the Tegeder show, Clemence writes, "The exhibit is a multi-media feast, featuring a digitally created sound library, animation, and some of Tegeder's early work. It all combines to encapsulate notions of architecture while commenting on it and how we relate to living within the urban scenario it defines. The artist's and the architects' systems interact with each other."
The article included 15 images of the show and the museum as well as links to videos on the museum site. Metropolis is a monthly magazine covering primarily architecture, culture and design.
Contributor Annie Godfrey Larmon conducted a wide-ranging interview about the genesis of Tegeder's work and her exhibition at the Wellin in a piece posted on June 26 on the BOMBLOG site. Tegeder discussed the "death of painting" in the digital era, what it might mean to pictorially render utopias and why her exhibition is a more "media-integrated project."
According to its website, "Since 1981, BOMB has been delivering the artist's voice through carefully developed conversations between artists about the creative process. This editorial method has proven to be a catalyst for discussion and thought that delves deep into both the practice and theory of creative work. BOMBlog's purpose is to experiment with this methodology whenever possible, discovering new ways to fulfill, and enhance, BOMB's mission, while expanding the scope and reach of the print magazine's legacy into the digital realm."